Monthly Archives:
May 2007

5,835 views
5,835 views
There are some wonderful ideas in new menu templates.
View the menus to see what the wonderful ideas are
7,339 views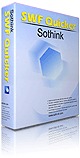 SWF Quicker 3.0 has made a big improvement from SWF Quicker 2.6. We strongly advise you to try it! It can change my face to the Spiderman's face smoothly, I love this featrue best!
New Features:
Support creating shape tween animations.
Support creating image tween animations.
Added Selection, Lasso, Brush and Eraser drawing tools.
Free to try Sothink SWF Quicker.                 click here to know more.
7,614 views