- The Best Flash Decompiler tools

Sothink Flash Decompiler easily decompiles SWF to FLA, extracts and convert SWF elements into multiple formats, like images, sounds (mp3, wav), videos (flv), ActionScript, etc. You can also convert the SWF built in Flex back into Flex source code; get XFL from Flash CS5 SWF. Now ActionScript 3 are supported by the Flash Decompiler. It offers multi-language interface and lets you export SWF resources in batch mode.

As the leading Flash Decompiler, Sothink Flash Decompiler provides you the most cost-effective way to convert SWF to FLA. You can also extract SWF elements including shape, sounds, images, sprites, fonts, texts, ActionScript, etc.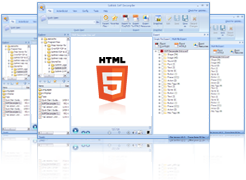 Who Need This Flash Decompiler?
Who Need This Flash Decompiler? You Do if You Ever:
Want to convert SWF to FLA and extract SWF elements.
Have to edit Flash in Adobe Flex Builder 3, only to find that you original Flex project files were lost.
(Solution: convert SWF to FLEX project with this Flash Decompiler.)
Wanna create your own Flash works, but couldn't find enough resources.
(Solution: extract elements from any well-designed Flash SWF with this Flash decompiler.)
Flash Decompiler Main Features

Comprehensive Flash Decompiler
Convert SWF to FLA
Decompile Flex SWF back to Flex source code
Extract SWF elements
Get XFL from Flash CS5 SWF
Extract SWF from Flash EXE

Powerful Flash Decompiler Capability
Export SWF resources in batch mode
Show AS Class structure like folder-tree according to its path in package when decompile AS3.0. Globally search all ActionScript is supported.
Globally search all ActionScript
Extract SWF elements
Export ActionScript file in AS, BIN or HTML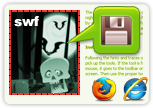 Smart Assistance
Offer a free SWF Catcher to download online Flash from IE or Firefox
Provide a built-in Flash player to play SWF/F4V/FLV
Snapshot the playing Flash movie
Auto-recognize system language, English, German, French, Traditional Chinese, Italian and Korean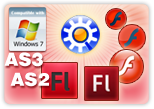 High Compatibility
Support Flash 6/7(MX 2004)/ 8/9(CS3)/10(CS4)/CS5
Support ActionScript 2.0/3.0
Compatible with Windows 7
Support Flash components

100% Clean - No need to worry about installing unwanted spyware or adware. Uninstallation is completely supported.


Life-time Free Support - Send an email to our customer service team at support@sothink.com whenever you need help.


Risk Free Guarantee - Shop safely in our secure online store. Your data and personal information are protected.
Review
by Onekit.com

"Sothink SWF Decompiler is a really professional tool allows catching and saving web Flash animation for further editing by special applications."

by Download.com

"Every element in a Flash movie is fodder for Sothink SWF Decompiler. It breaks Flash down into its component parts, including sound, images, fonts, buttons, and even action scripts."
Awards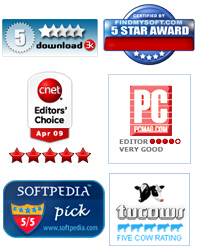 System Requirements

Windows 7 32/64-bit
Windows Vista 32/64-bit
Windows XP 32/64-bit
Windows Me/2000
Windows 98/NT 4.0
Windows Server 2003 32/64-bit
Windows Server 2008 32/64-bit