-----
Hi everyone here,
-----
We are glad to inform the release of Sothink SWF Editor V1.0 Build 280!
This powerful SWF editor is mainly designed for developers to edit SWF files.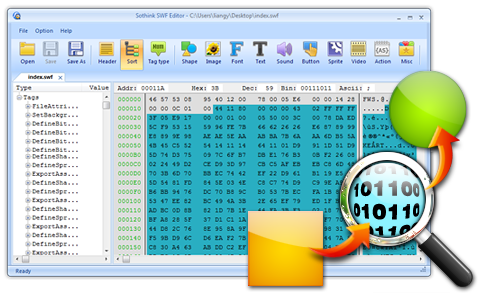 Main Features
:
• Auto parse the opened SWF file into a tag tree;
• Edit the SWF file by changing tag values;
• Show/Hide the SWF file header;
• Sort the SWF tags by default order or by category;
• Preview individual tag node of the SWF file;
• Search content by Type/Value;
• Save the edited SWF files.
Who Need Sothink SWF Editor?
• Programmers
Flash related developers who need to debug project by digging into the tag values or binary data of SWF files occasionally.
• Flash designers
Experienced Flash designers who want to edit SWF elements more efficiently by directly changing the tag values in SWF files.
• Flash novices and Flash fans
Flash lovers who just feel interested to learn the Flash technology and take a deep look at every SWF file.
Please download the latest trail version of Sothink SWF Editor at the link below:
http://www2.sothink.com/download/swfeditor.zip
For our purchased users of Sothink SWF Decompiler or SWF Quicker, you could enjoy
50% discount
to purchase this fantastic tool, please contact us at
support@sothink.com
for the discount coupon.
Have fun