How to-- Sothink SWF Decompiler
How to decompile SWF to FLA?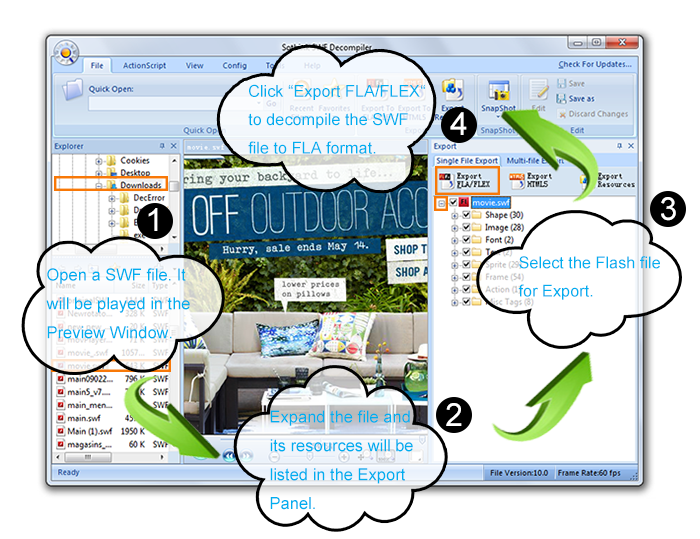 In the popup dialog, define the Export Path and Version. The program will list the recommended version by default.
Note: The file created by Adobe Flash can only be exported to FLA format.
Advanced Settings
Decompiler also provides some advanced settings which you can modify by clicking the button Advanced.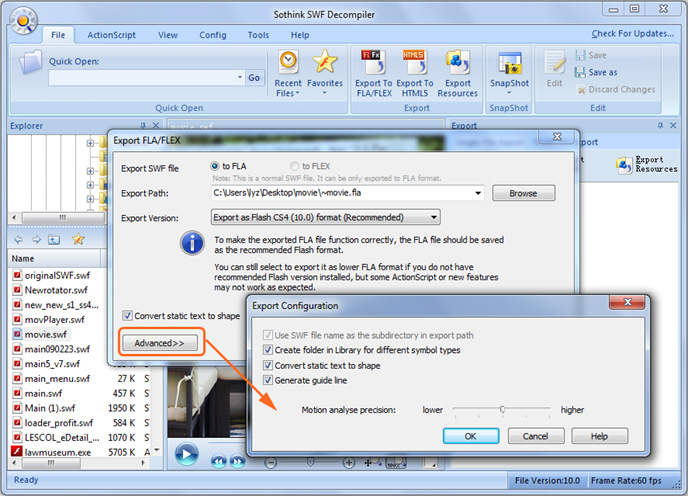 Create folder in library for different symbol types: Checked by default. SWF Decompiler will save the exported symbols in separate folders according to their types.
Convert static text to shape: This setting is to avoid the font missing on some computers during the decompiling process so that the exported FLA will keep the same text look.
Generate guide line: Checked by default. Check or uncheck this option to choose whether to generate guideline when exporting the SWF with guideline to FLA format.
Tip: If there are some problem with the generated FLA, e.g. FLA cannot be opened in Flash, you may uncheck this option to see if the problem is avoided.
Motion analyse precision: Set the precision level used to recover motion tween.
Check the link below to view video tutorial.
http://www.sothink.com/tutorials/how-to-convert-swf-to-fla.htm