How to-- Sothink SWF Decompiler
How to download Flash movie from IE?
Sothink Flash Downloader for IE can help you get movie from IE. By default, this add-in for IE is installed with the installation of SWF Decompiler.
Step one: Browse a page containing Flash on IE
Step two: Launch Sothink Flash Downloader for IE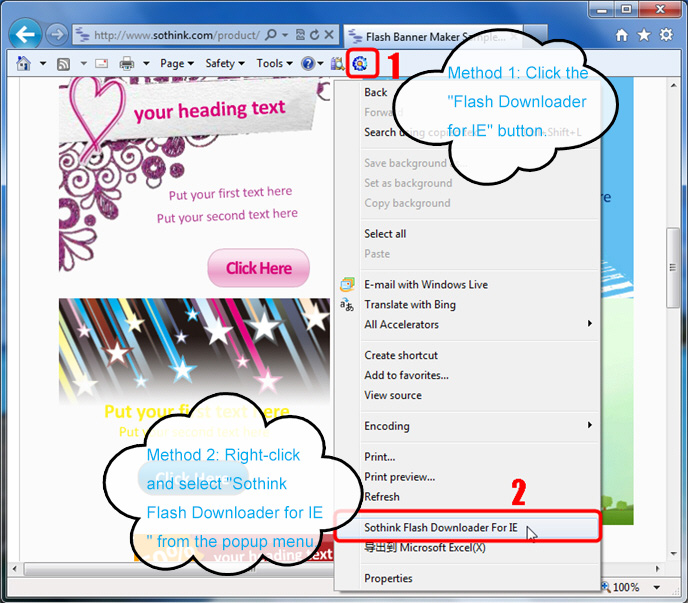 Step three: Save a captured Flash movie
After the above process, you will get the following popup window listing all the Flash files in this page.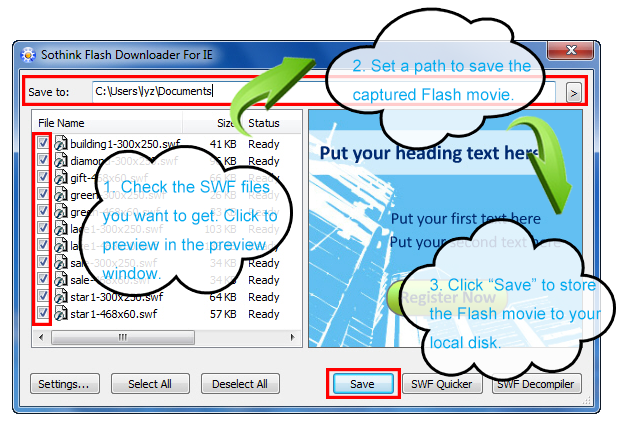 Settings...: Click to set the default directory.
Select All/ Deselect All: Click to select or deselect all the SWF files.

SWF Quicker/ SWF Decompiler: Click to open the Flash movie in relevant program as long as you install it after the selected movies are saved.
Tip: If you see the Flash movie in a pop-up IE window, which has no address bar and toolbar, please do as follows to capture it:
Open a new blank IE browser window;
Drag the IE icon from pop-up window's address bar to this new window;
The Flash movie will be opened in this new window;
Now you can use method 1 or 2 to catch it.
View more information about Sothink Flash Downloader for IE at the link below:
http://www.sothink.com/product/swfcatcher/ie/