Logo Resources --- Sothink Logo Maker
Stunning logo materials are always needed. If attracted by something in a Flash(SWF file), is it possible to get the materials in the SWF file and use them in personal logo creation? Besides pre-made resources and importing images function, Sothink Logo Maker also supports importing SWF to get more materials.
Import SWF
Go to "Home" tab on the ribbon menu and choose "Import" option, then click "Import SWF Resources" button, the "SWF Resource" window will be opened. Check "Add..." button to import SWF files from your PC, and the program will automatically decompile the SWF files. Pick up one SWF file on the left of SWF Resource window, the images in the source SWF files will be listed on the right. Drag the image from list to canvas, you can use it to make your own logo.
Choose the SWF file on the left of SWF Resource window, click "Remove" button to remove SWF file from list.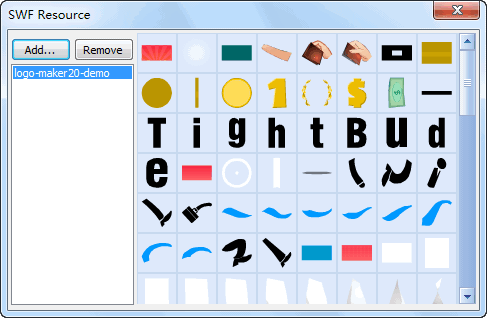 How to use and search the built-in resources?