Sothink Menu Templates Help Index
Brief introduction about Tree Menu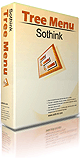 Easy to Build the Professional Tree Menu with No Skills!
Sothink Tree Menu is the most powerful and easy-to-use JavaScript tree menu builder in the world. It is a family member of Sothink DHTML menu products. Both of them use the same user-friendly interface, which nearly all the other competitors of Sothink Tree Menu cannot beat.
It creates search-engine-friendly DHTML menu trees with full cross browser support in a matter of minutes, without writing a single line of code.
Our exclusive free DreamWeaver, FrontPage and Adobe GoLive extensions help you quickly design your tree menu and integrate it with your existing web site.
You can view more about Tree Menu here >>
Special offer

Search
Recommend Products