Students are always looking for self-improvement or ways to make a quick buck. Student loans are expensive and student life can cost a pretty penny as well.
Learning programming is easy and can be low cost or free. Besides, it provides you with a modern, tech-savvy employment option if your chosen career doesn't pan out.
If you're interested in becoming a programmer, here are ten of the best resources to help you get there.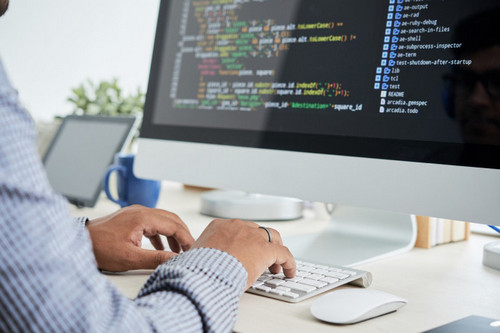 Computer photo created by pressfoto 
Bitbucket
Bitbucket is a version control system that does not allow for social interaction with other programmers. You write and store versions of your code and can make use of private repositories for free. In addition to helping you track different versions of your program, you can also use Bitbucket as a hosting site.
Git and Github
Most programming companies will expect you to have experience in a version control system. Git and GitHub are version control systems that you can use to store and maintain different versions of the code you write. It is useful to keep track of what you've created and what you've changed, and also allows other programmers to collaborate with you.
Sublime
Sublime is a text editor that is very easy to use. It has been around since 2008 and is considered to be highly reliable in terms of function and productivity. Sublime is a great text editor since it is supported in Windows, iOS and Linux, allowing you the freedom to use whatever OS you prefer.
And while you are learning coding, you also need a reliable place to get your writing assignments from. UK Edubirdie essay writing service provides you with everything from an essay to a thesis and dissertation to term papers. The writers there are experts in their subject areas and can deliver what you want at affordable prices.
Atom
Another text editor, Atom, was created by Github and is very easy to set up. It is a decent text editor but tends to lag at times. Using Atom in conjunction with its parent program Github ensures it runs optimally. Furthermore, using these programs in conjunction with one another allows for smoother transitions.
Notepad++
A very easy to use text editor, Notepad++ is also the most commonly used. You can use it to write a decent, basic program or to write web pages. You can track changes and save different versions of your file for testing and later use or editing. Many people like Notepad++ because it's a simple tool to use.
Udacity
Udacity is a programming platform that offers nano degrees. A nano degree is like a diploma but it holds more power. Udacity teaches you everything you need to know about the programming course of your choice and awards you with a certificate at the end of the course. It is a great way to learn programming if you need additional guidance.
Cloud9
When you are learning to program, it is important to practice. There are many virtual playgrounds available for use. If you prefer to work on Linux, Cloud9 is a good virtual playground as it also runs on Linux. It allows you to do everything the same way you would do it on a Linux machine, so it might be a good place to start out.
CodePen
Another virtual playground is CodePen. Where Cloud9 allows you to test out any programs you have written, CodePen is more suited to HTML and thus better for web developers. It allows you to test out your site and get feedback on its form and functionality, and how to make appropriate changes.
Codesandbox.io
Codesandbox.io is a fast and reliable resource based in the cloud. Another virtual playground, it allows you to test prototypes of your programs or web pages to see how they run and see where you need to adjust the code. Since it is cloud-based, it will not cause your computer to overload or lag.
Repl.it
This is an all-round programming platform that allows you to create virtual playgrounds. In these playgrounds, you can develop, test, and release programs. Besides, Repl.it also has a teaching platform with a specially developed grading system to help you improve your skills with formal instruction.
Conclusion
Programming demands patience. You will not learn everything in a single sitting, and mistakes are bound to happen. Just like any other hobby or career, you will need to practice to improve. Seek guidance from those in the know, and always be ready to accept criticism on the path to improvement. Programming is always adapting and changing, so you will likely become a lifelong learner to stay on top of all the new languages and programs that emerge as technology improves.
Author Bio:
Elizabeth Skinner is an IT expert working with a Silicon Valley software company as a programmer. She also has a passion for writing papers, and therefore, she works as a freelance writer in science and technology area. In her free time, she cooks vegan food for family, attends yoga classes and learns new languages.