iPhone can be infected by a virus. Even if you have not performed a jailbreak on your device, the iOS device can still be attacked by malware. And during the last few years, the growth of iPhone malware has been propagated, such as Muda, YiSpecter, Yomi Ad, AceDeceiver, and more. How to keep your iOS device safe? How to handle a virus or malware attack? In this guide, we will let you know how to check and get rid of an iPhone malware. Furthermore, it also provides the way you can take to protect your device!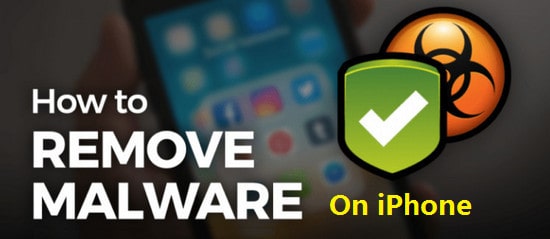 Part 1: How a virus or malware attack the iPhone?
Technically speaking, a virus is a piece of code that inserts itself into another program, whereas a worm is a standalone program in its own right; both seek to propagate themselves by hijacking messaging applications or via social engineering. Because hackers cannot break into iOS itself, one of their most common strategies is to crack a developer kit, which may in turn be used by unwitting app developers. The crooks thus gain the ability to redirect you to a dodgy website when you use the app which uses the compromised tool.
---
Part 2: How to find out if your iPhone has got a virus or a malware
So please do such the following checking:
Have you jailbroken your device? And if so, have you installed an application from a non-official source whose authenticity is questionable? If the answer to both is yes, you may have a malicious piece of software on your device and should attempt to isolate and uninstall the culprit.
Check crashing apps.
Does the unexpected behavior manifest itself when you use certain apps only?
If so – and particularly if it's only one app – then you're probably looking at an app-specific issue, and we'll deal with this in a moment. Common behaviors exhibited by apps that have been hijacked include redirecting you to an unfamiliar web page in Safari and opening the App Store without permission.
Check malicious apps.
Look carefully at the list of every app you've installed from the App Store, tap the Apps icon at the bottom of the store, tap your profile photo, and then tap Purchased. If there's an app on your phone that isn't in this list (and doesn't come from Apple), it's likely malicious.
Check battery performance.
Go to Settings and tap on Battery. All the apps with the respective battery usage will be listed. When you tap on Show Detailed Usage, you will get the breakdown of foreground and background usage. If you find an app that you don't recognize, it is malware.
---
Part 3: How to remove malware from the iPhone?
Attention
Way 1. Format Your iPhone from iPhone Setting App
Alternatively, you can clean all the iPhone data and format iPhone via iPhone Settings APP. This is the quickest and easy way of restoring your iDevice to its original factory settings. But, the data can be recoverable.
Simple Steps to format your iPhone from iPhone Setting App:
Click the Settings from the "Home" screen of your iPhone.
Scroll down to tap on General.
Find the Reset tab, click on it.
Select "Erase All Content and Settings".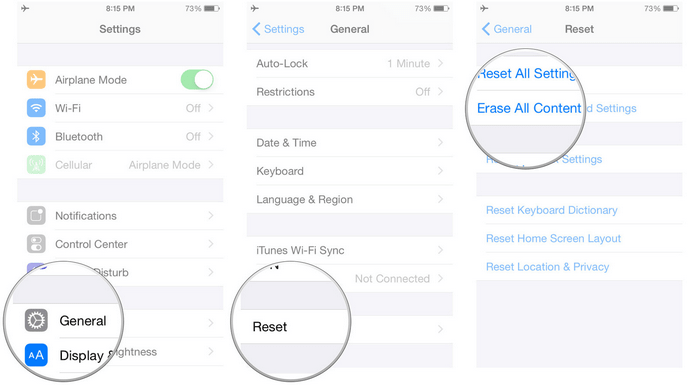 Tap on Erase iPhone.
Tap on Erase iPhone again to confirm.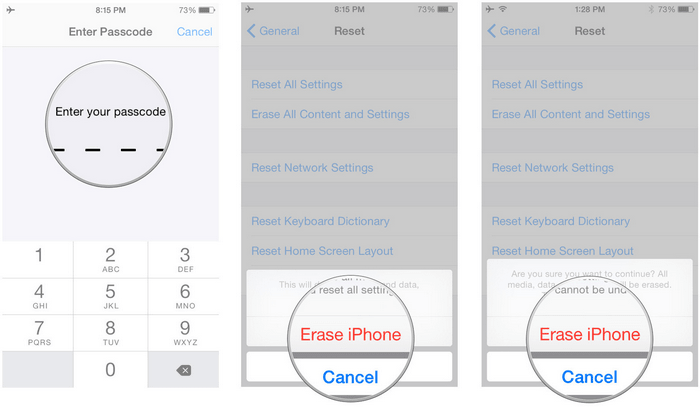 Enter your Passcode.
Enter your Apple ID password to turn off Activate Lock and remove the device from Find my iPhone.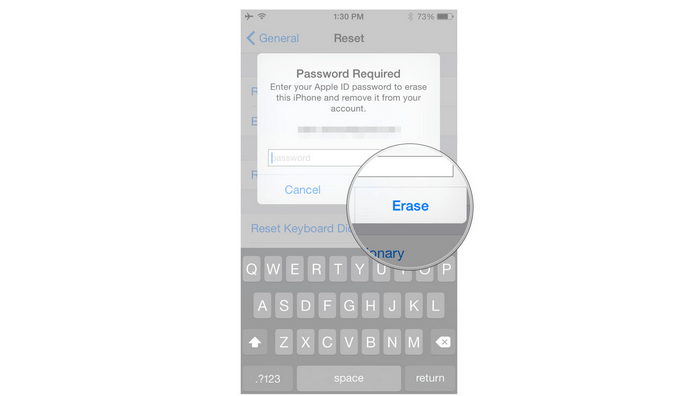 The process can take from a few minutes to several hours. Please be patient.
---
Way 2. Format Your iPhone with PanFone iOS Eraser
PanFone iOS Eraser may be the best solution you are looking for. This software is one of the best iPhone data erasing software that enables you to permanently erase the files that you want to delete. It comes with four data erasing modes: Erase All Data, Erase Deleted Files, Erase Private Data and Erase Private Fragment.

 PanFone iOS Data Eraser
PanFone iOS Data Eraser supports to erase messages, contacts, call history, photos & video, browsing data and more with 0% recovery and 100% wipes 3rd-party apps. With PanFone you can protect your private data by:
Permanently Erasing All of Your Private Data
Permanently Erasing even All of Your Deleted Files
Erasing All Data at One Time
Erasing Private Fragments from 3rd-party Apps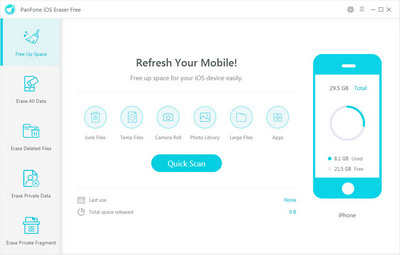 How to use PanFone iOS Eraser to format your iPhone completely:
Through the "Erase All Data" function, you can remove all the data from your iPhone. Here's how to do it:
Step 1: Click the above download button to get this iPhone Data Eraser and install it on your PC.
Step 2: Launch it and connect your iPhone to your computer.
Note: you need to turn off Find My iPhone first if you want to permanently wipe your iPhone data.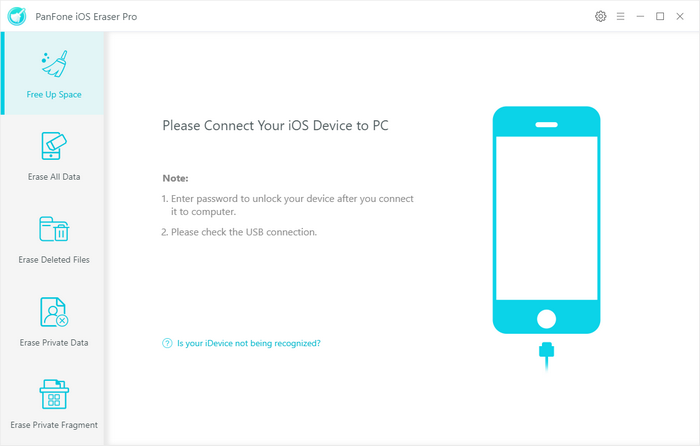 Step 3: Choose "Erase All Data" and simply click on the button Erase.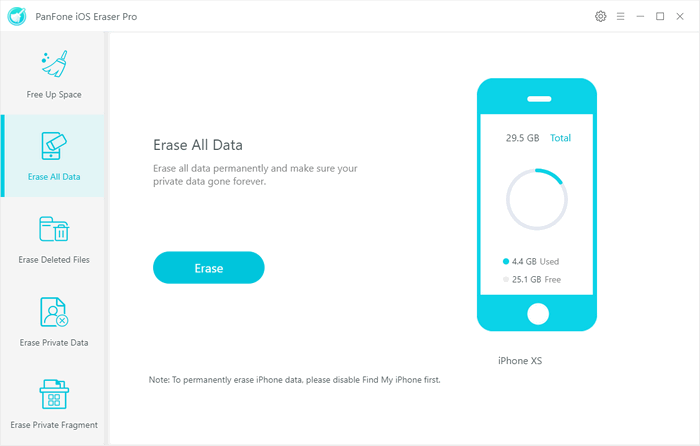 Step 4: There are 3 security levels to select. Choose the one you prefer and click OK. The "Medium" level is recommended by default.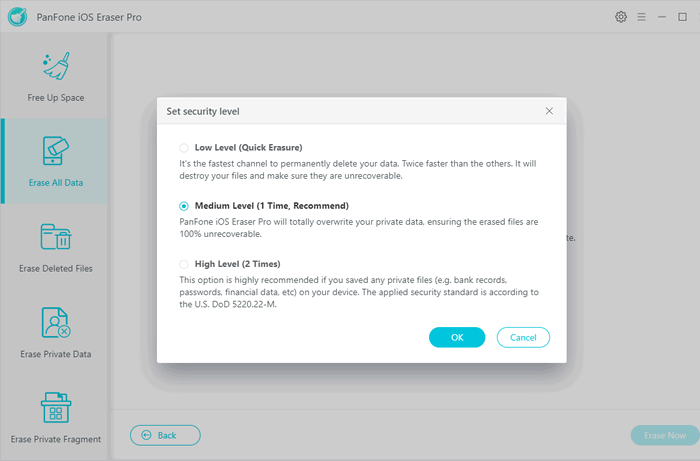 Low Level: It's the fastest way to permanently delete your data. Twice faster than other options. It will destroy your files completely, overwrite all the data with zeros and make sure the files are unrecoverable.
Medium Level: Our iOS Eraser will totally overwrite your private data with junk files, ensuring the erased files are 100% unrecoverable.
High Level: If you saved any private files (e.g. bank records, passwords, financial data, etc.) on your device, this option is highly recommended.
Step 5: Confirm your deletion by manually inputting the words "erase", and then click "Erase Now" to start.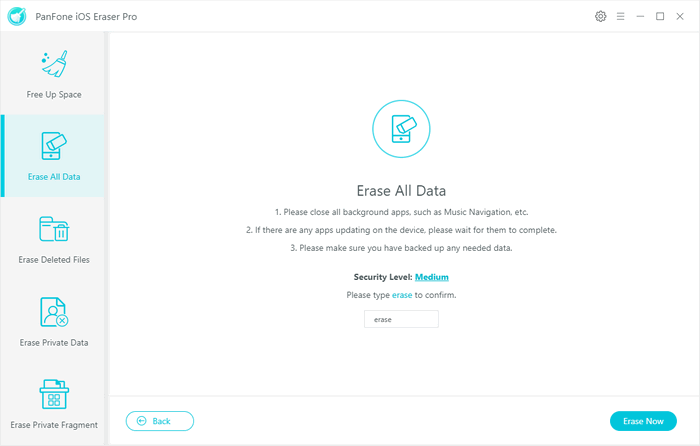 During the process, please keep your iPhone connected all the time and don't click the "Stop" button. Once the formatting process is complete, everything on your iPhone will be permanently deleted.
Note: Please note this action will PERMANENTLY erase all data and CANNOT be undone. Please make sure you've backed up the data in case of any data loss.
Tips
---
Part 4: How to keep your iPhone malware-free?
Now when you know that iPhone malware exists and can tamper with your phone, you should take every necessary step to protect your device. If you wish to keep your iPhone malware-free, then follow these expert suggestions:
Don't jailbreak your device
You might already know that a jailbroken device is more likely to be infected by malware. Therefore, you should try not to tamper with your device in any way. Even if you have got a jailbroken device, be extremely careful. At times, iOS users get a virus on their jailbroken device by downloading apps from an unreliable source. Use a secure installer and only get genuine apps on your device to keep it safe.
Keep your device updated
If you haven't updated your iOS version in a while, then chances are that it can be vulnerable to a cyber attack. Therefore, you should always keep your device updated in order to keep it safe. Go to its Settings > General > Software Update to see the latest iOS version available. Just tap on the "Download and Install" button to upgrade your iPhone.
Get rid of unknown profiles
While downloading third-party apps, users need to install various profiles and give special permissions to it as well. To keep your iPhone malware-free, you should only give access to authentic profiles. Go to your device's Settings > General > Profiles to review all the installed profile. Just tap on the profile you wish to delete and select the "Delete Profile" option. Confirm your choice by providing your passcode and get rid of the profile.
Use an anti-malware application
In order to protect your iOS device, install an antivirus app. One can simply download a reputed anti-malware app from the App Store. Read the official reviews of a few apps and select the most suitable one for your device. Make sure that the app would be able to scan your phone on a real-time basis. A website security tool is a must as it will keep your iPhone malware-free from any cyber attack.
Only connect your phone to trusted devices and networks
One can get an iPhone malware by trusting an already infected system or by being connected to an unreliable network. Therefore, it is highly recommended to connect your iOS device to only secure systems and Wifi networks. This will certainly let you keep iPhone malware-free in the long run.
---
Conclusion
From the above 4 parts in this guide, we hope you get to know how to handle a virus or malware attack, check and remove malware to keep your iOS device safe. When you know how to keep your iPhone malware-free, you can certainly make the most of your iPhone.