AjaxLine, one of the most popular sites for web developers and designers, constantly providing readers with interesting articles and tutorials, free stuff and fresh news, have just released an article talking about DHTML Menu Builder. Here the follows:
"Sothink DHTML Menu is a simple but powerful navigation menu builder. The DHTML menu builder creates cross-browser drop down menus in seconds, compatible with IE 8, Google Chrome and more. Integrates with most popular web authoring tools. Building a search engine friendly DHTML menu becomes so easy.
Full cross-browser compatibility. (Supports the latest IE 8, Google Chrome, FireFox 3, Opera 9 and Safari 3!)
FREE integration with Dreamweaver, FrontPage, Expression Web and Adobe GoLive as add-ins/extensions.
Database driven JavaScript menus with ASP, PHP, JSP, ASP.NET, ColdFusion and more.
Tab Menu displays navigation menu items as tabs.
Keyboard navigation function controls DHTML Menu by keyboard, such as Press Alt + F2 to launch.
Multi-Column menus or Multi-Row menus available.
Fully customize properties, like font, icon, background, border, cursor, tool tip, surround, effects, alignment, transparency, size and etc.
Freely select and edit images as icon, arrow, background and separator from Image Library and Background Library.
Easily adjust the color, tint & brightness to edit the image or choose corners and edges separately for surround.
Any HTML code can be used within menu item.
Encode menu in the proper language.
Support W3C Valid XHTML 1.0.
Support any DOCTYPEs, and supports UTF-8.
Here's several screenshots: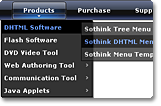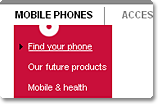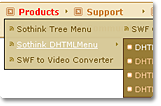 Quick Links:
Some testimonials from users:
I have used quite a few DHTML menu creation programs. This is by far the best. IMO, what makes this program the best one I have used is it's flexibility. You can use their premade templates, however, you can also customize every possible aspect of your menu to create your own and have them look and work the way you want them to.
Another feature that has saved me countless hours of updating coding is the ability to export your menu as a javasript file. By doing this, you simply edit your menu, save as a javascript file and upload your updated javascript file to your website. That's it. All of your websites call the JS file so there is no needing to update any of your html files.
A new feature I noticed in 7.0 is the ability to export your navigational menu to a Google XMS Sitemap and to have it create some search engine friendly code. This is a huge plus for those wanting to optimize their site when search engines crawl them.
–KewlKat007
Appears to work very well so far. Fairly easy to learn for someone experienced in working with absolute and relative addresses, you will need to know basic HTML. Most comparable programs costs much more than this one.
–anonymous
I ran across this program because I was using a competitor's product that did NOT work. The SoThink system is easy to set up with intuitive menus and options that can be applied across multiple items. It works first time, every time on all browsers I have tried (IE, Fire fox, Flock, Opera). The options for appearance and function are so vast I have yet to scratch the surface! I HIGHLY recommend this program over others you may have seen. I have constructed my own menus using CSS and DHTML and find this method infinitely easier.
–rbressler
This software installed easily and gave me add-ins for Dreamweaver, Front Page and Expression Web. I used it the first time today and had a very nice looking DHTML menu very quickly. Although I liked all of the provided templates I ended up creating my first menu without a template. It was very easy and looks great on the site. Very easy to configure and get exactly the look you need.
–anonymous
You have a REMARKABLE product … I say again, this is an EXCELLENT program … I have tried five or six others, and even purchased two of them, including OPENCUBE … but I am switching to yours today.
–Maurice Hurley"
Quick Link: