Aiming to help photo album users create Flash album better, this week SourceTec Software announced the upgrade of Sothink Photo Album Maker, the free Flash album creator.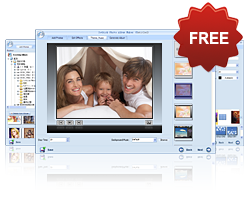 Photo Album Maker version 2.0 build 210 has fixed a few bugs, like the error of unable to play BMP images in the templates and some other little ones. Now this free Flash album studio totally and greatly supports all popular formats of photos and pictures, like *.jpeg, *.jpg, *.png and of course *.bmp.
The new released Photo Album Maker also runs more stably, including under Windows 7. And it can offer customers enhanced security, as well as innovative user interface features and reliability improvements.
Photo Album Maker still has a few raw sides that we expect will be fixed in the future releases. However, this free Flash album creator is always working hard to be the best choice of making and sharing Flash photo album. If you have any ideas or suggestion, please feel free to write us at support@sothink.com.
We will closely watch all events concerning Sothink Photo Album Maker to deliver first-hand information to you. Check out Sothink Blog not to miss a thing!