For a person who is always looking forward to the next technology, fax machines are outdated. However, fax is still here and most companies prefer sending and receiving faxes instead of emails. 
So, having a convenient way of faxing from your PC computer is a good idea. To accomplish this, you need a computer-based app that allows you to fax from your computer.  
Online fax app is basically a software-based fax machine that connects digital faxing to traditional faxing. These work exceptionally well. In this article, we show how to fax from a PC computer using a computer-based app. 
CocoFax – The go-to online PC fax service 
CocoFax delivers nice service for everyone from individuals to corporate users. Check out CocoFax site to get a detailed understanding of what CocoFax is all about. 
CocoFax lets you send and receive fax from all over the world. Using CocoFax's computer fax software gives an easy and effective way of faxing. It comes with a 30-day free trial period. 
What's more, you get a free custom fax number with this online fax service. CocoFax allows you to send faxes remotely. Its technology translates your documents into faxable documents. 
1.1 What you get from CocoFax
CocoFax promises the easiest and the fastest way to send faxes. Below are some of the features and capabilities you get with this app. 
Fast and reliable 
With CocoFax, you get to send and receive fax instantly. The online fax service makes it easy as sending an email. Besides, it sends you a delivery notification for every sent and received fax. 
Its online fax dashboard also provides you with a convenient way of sorting and organizing your faxes. Best of all, the faxes are accessible online whenever you need them. 
The delivery notifications make it easy to know if your fax has been delivered or not. Also, the ability to fax from your PC computer through the internet revolutionizes faxing. 
Safe
CocoFax encrypts all your faxes to ensure they are safe as they are transmitted online. Fax is more secure than email, no wonder businesses trust this technology over email. 
The encryption ensures your fax documents are for your recipient only. 
Multiplatform support 
Besides faxing from your Pc computer, CocoFax lets you fax from your smartphone, tablet and iPad. This online fax service lets you fax from different platforms. 
For instance, you can fax from your email, web browser or even smartphone app. All this makes faxing convenient for everyone using today's devices. 
How to fax from PC computer using CocoFax
As noted, the most convenient way of faxing from your computer is through an online fax service. CocoFax lets you send and receive fax on your computer without the need for a landline. 
CocoFax is a massive upgrade to the traditional fax machines. Below are the steps involved when faxing from your computer. 
Step 1: Sign up for a CocoFax account at the official website. For the first 30 days, you get a free trial period without any payments. From there onwards, you pay a reasonable fee per month. 
Also during sign up, CocoFax will let you choose a custom fax number. ONce you are done setting up your CocoFax account, you will access your dashboard.  
Step 2: In the dashboard, you can send and read received faxes. It archives your faxing activity. To send a fax, click the 'New Fax' button to load the window where you will compose the fax.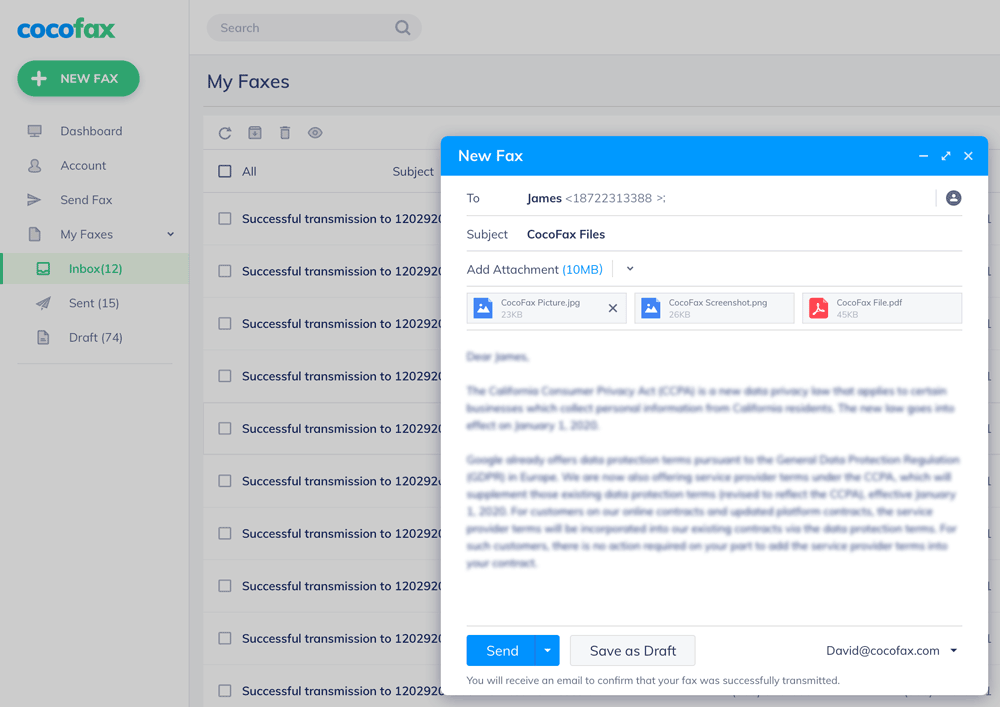 Step 3: In the new fax window, fill in the requested details starting with the recipient fax number. In the 'To' field provide the fax number of the recipient. 
In the 'Subject' field, provide what you would like to appear as a note at the top. Fill in the body of the fax with the content you want to appear on the cover page of the fax. 
Also, CocoFax lets you add attachments to your fax. It allows you to attach files such as pdf, xls, png, jpg and doc. 
Step 4: When you are convinced that you've captured what you want, click the 'Send' button. 
You will get a delivery notification shortly once it is delivered. However, if you provide a wrong fax number, the fax will fail and you will get a failure notification. 
Also, the fax may fail because of problems with the recipient fax machine.  
Conclusion
Being able to fax from a PC computer revolutionizes faxing by bringing the old-fashioned technology up-to-date. This is only possible through an online fax service like CocoFax. 
To use CocoFax to send and receive faxes, follow the steps outlined above.