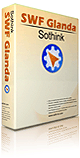 Sothink Glanda 4.2 (Build: 70608)
Support freely editing the flip album generated from Flip template of Album wizard.
Support importing GIF images.
Support dragging objects up or down in Timeline to change Z-order.
Support locking/unlocking an object to avoid making unnecessary changes for it.
Support setting transparency for a specified color in a shape filled with a bitmap.
Added more Shape and Background resources.
Size: 25.8MB
Free Download                         Get More Details>>>>