A summary is a short and concise statement of material or a generalization of the main ideas stated in any information source. The primary purpose of writing a summary is to give the reader a general idea about any topic, problem, question, source text without reading it, saving time significantly.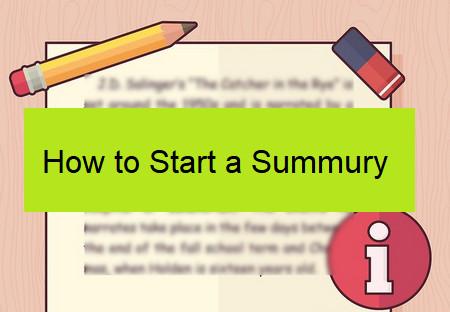 For the material's presentation to be consistent and logical, the summary usually uses simple sentences, enumerations, generalizations, and introductory words (you can find helpful guidelines, general aspects of summary writing, and examples here).
Characteristics of a Good Summary
The text of the summary should look adequate and understandable for a person who has not read the source text.
The summary volume should be approximately one-fourth or one-third of the original text volume.
It is necessary to rephrase, not rewrite the sentences of the source text.
The following writing summary structure must be observed: introduction, main body, conclusion.
The introduction should indicate the article's title, the author (if any), or the topic.
In the main part, the source text's central points and ideas are indicated without details.
A summary presents only the conclusion made by the article's author.
No personal pronouns (I/we) or subjective opinion.
No ambiguous sentences.
If possible, it should be written in present tense.
Convert direct speech into indirect speech.
Practical Advice on How to Start a Summary
Read the original text attentively to get an idea of ??the problem raised, the topic, and the author's attitude to what is discussed in the text or article.
Highlight the main idea.
Pay attention to actual examples and facts to indicate theses in summary.
Use paraphrasing to avoid repetition of the original text.
Be short, concise, and don't use complex terminology.
Follow a particular summary structure:
– Introduction (information about the author, introduction of the topic)
– Presentation (main idea, facts, examples)
– Conclusion (the author's conclusions)
It is allowed to change the order of sentences, thoughts, and structure of the original text to make the summary more logical and understandable.
There is a significant number of phrases and expressions for a consistent presentation of the text. Let's take a look at those that can be used to start a summary:
– The article is concerned (deals with)
– The problem/article is about
– In the article introduction, the author singles out / describes / depicts / points out
– The text highlights one of the crucial issues
– It would be wise to mention here
– Considering the situation, it should be mentioned
– It becomes evident that
– An important point is that
– It makes sense (to)
– Also,
– By the way,
– As a matter of fact,
– On the one hand,
– In brief
– It is a striking example of
– The subject of the article is
– Some advantages are presented
– The author (the text) covers / focuses on / highlights / tells us about