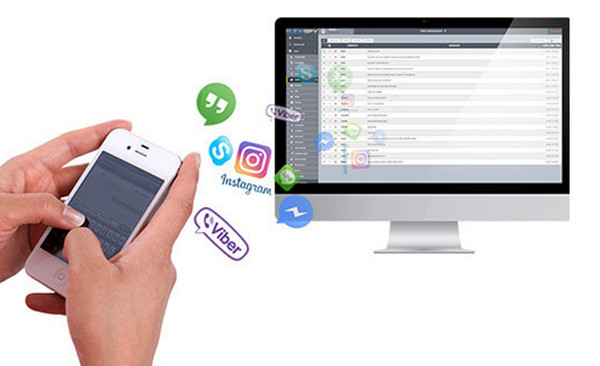 Installing a keylogger app voluntarily is not feasible for most people. Even you, you won't want to see this fellow running alongside other apps on your device.
Keyloggers are traditionally linked to spying malware trying to compromise privacy to access passwords and banking credentials. However, keylogger capabilities have successfully been used in various iPhone monitoring tools.
So, to install a keylogger on a target iOS, it is convenient to use a phone surveillance app. In this article, we will be looking at the remote installation of Cocospy keylogger feature.
A keylogger is a piece of software that keeps a log of all keystrokes. A few years ago, keyloggers were only available for traditional keyboards, but now there are touchscreen keyloggers.
Cocospy – The best iOS Keylogger
Cocospy is a legit and safe iOS hacking tool that comes with an awesome keylogger feature. To avoid any doubt about its legitimacy, Cocospy has been featured in many media outlets among them Forbes.
The app is trusted and used by millions of users across the world. Also, it enjoys one of the best customer approval ratings of any phone spy apps. This a reliable keylogger for iPhone from Cocospy.
The app deserves a place in your list of the best keyloggers for iPhones and iPads. To back its phone surveillance credentials, the app not only provides keylogger capabilities but also at least 34 other features.
All its activities take place in stealth mode. So, you won't have to worry about the target getting a whiff of your surveillance activities. The features let you access virtually all the installed apps on the target iPhone or iPad.
Cocospy Keylogger features
If you need a reliable iPhone and iPad keylogger, trust me, Cocospy is the best in the market today. For instance, to ease access to all recorded keystrokes, the app sorts them based on the app they were made.
This eliminates the need to manually sort all the keystrokes, which is time consuming and not convenient at all. The keylogger feature in this iPhone and iPad hacking app is so efficient you may forget to use other features.
Not that the other features are any less, on the contrary you get a lot more than you may expect. The other features let you access different areas that don't require keystrokes like location and much more.
Cocospy keylogger will even let you access login credentials to various online platforms as well as banking credentials. Literally every keystroke on the target iPhone or iPad is recorded.
Reasons why you should consider Cocospy keylogger
The best thing about Cocospy is that all installation on iPhone and iPad is done remotely. No physical access required to install the app on the target iOS devices.
Besides being one of the best iPhone and iPad keyloggers around, there are some other factors that set it apart. These include:
No jailbreaking required
To install the keylogger on the target iPhone and iPad, you don't need jailbreak the target device. This not only compromises the security of the device but also voids the device warranty.
So, Cocospy does not compromise the security of your target device.
Easy to install
Setting up and using Cocospy takes a matter of minutes. The best part is that you won't have to download and install the app on the target device. Almost all the setup is done automatically by Cocospy system itself.
You only need to make a few clicks here and there for the app to proceed with the setup.
Pocket-friendly
Cocospy is a pocket-friendly app. The keylogger feature plus several dozens of other features come at a very cheap price. For a phone surveillance app, the combination of capabilities and price make this app a very decent choice.
Works in stealth mode
As a surveillance app, all Cocospy keylogger activities take place in the background. Since the installation of this app takes place remotely it leaves no trace on the target iPhone or iPad device.
Remote installation eliminates any need for physical access to the device. So, unless you tell the target, they have no way of knowing that you are spying on them.
Remote installation of Cocospy keylogger on an iPhone or iPad
To install Cocospy keylogger on the target iOS device, there is a process to follow.
Step 1: Visit the official Cocospy website and register for an account. To enjoy the service, ensure you subscribe to a package that you deem suits your needs.
Step 2: Next, set up the target device. Provide the iCloud credentials of the target iPhone or iPad and verify.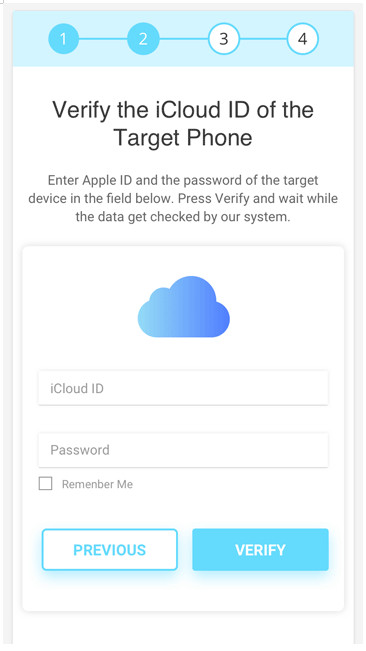 Step 3: Cocospy will take some time to sync all the data. When it is done, click 'Start'.
Step 4: Login to your Cocospy dashboard. Scroll on the left panel until you come across Keylogger.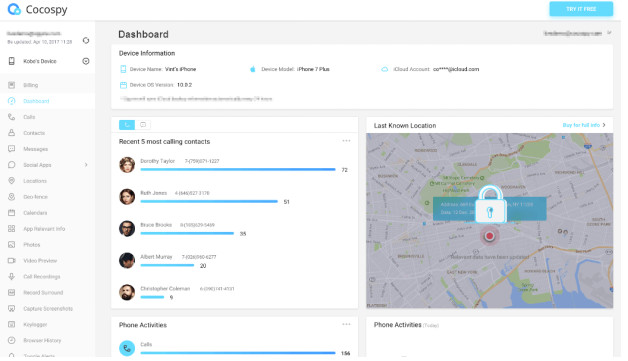 Here, you will be able to access all the recorded keystrokes on the target device.
Additional Cocospy features
As already stated, Cocospy gives you access to several dozen features. Below are some of them.
Monitor social media apps
Cocospy keylogger feature can monitor all the typed and shared content on social media from the target iPhone or iPad. However, there are advanced features that let you spy on social media platforms.
Cocospy lets you spy on Facebook, WhatsApp and Snapchat among many other popular social media platforms.
Monitor calls
Cocospy call monitoring capability lets you record all incoming, outgoing and missed calls. Also, the app records details such as caller identity, timestamps and call duration. Best of all, you can record these calls.
Track location
Cocospy location tracking keep you updated on the whereabouts of the target iPhone or iPad. You even have the option of seeing where the target has been and at what time.
Conclusion
If you are looking for a reliable and trustworthy keylogger app, consider Cocospy. Cocospy's unique mode of installation lets you install the keylogger remotely without getting access to the target iOS device.
What's more, the app is totally legit and does not require jailbreaking the target iPhone or iPad.