After a period of closed test, Sothink SWF Decompiler for MAC is finally released today!
For those who are longing for this version for a long time, you could buy it now, and It will be appreciated if you wait us to send you the standard key next Monday.
For those who has already preordered, we have send the standard key to your mailbox, please check it. Any problem you have, please feel free to contact us. Sent your mail to support@sothink.com
We hope you enjoy our service. Keep checking back frequently for new valuable information which only provided to our most dear users–like you!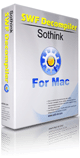 File size: 5,00 MB

 Latest version: 4.1

 Build number: 80523

 Release date: 23rd May, 2008

 Uninstall: Supported