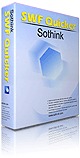 SWF Quicker 3.0 has made a big improvement from SWF Quicker 2.6. We strongly advise you to try it! It can change my face to the Spiderman's face smoothly, I love this featrue best!
New Features:
Support creating shape tween animations.
Support creating image tween animations.
Added Selection, Lasso, Brush and Eraser drawing tools.
Free to try Sothink SWF Quicker.                 click here to know more.