SouceTec software is an innovator and a pioneer in web authoring and online video tools. Our sothink products have more than 50 million users all over the world; we make productivity tools for average users, as well as developers and design professionals. Sothink people always think what you think, do what you wanna do! We have always been close to our partner and users.
 
And now, SourceTec software joins Microsoft Silverlight and becomes its official partner!
 Just search "sothink"or "sourcetec",you can easily find us on Microsoft Silverlight!
 It is Sothink Quicker for Silverlight that we can join Microsoft Silverlight. Our Quicker for Silverlight is a pioneer to respond to Silverlight project. And Microsoft tries our product, and considers it is a potential Silverlight editor tool. So, we become the Microsoft partner successfully after Quicker for Silverlight beta is released.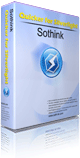 Let's know about Sothink Quicker for Silverlight. It is a cutting-edge, full-featured professional Silverlight Animation tool, creating animation which can be played on Silverlight platform.
As it has remained the fundamentals of creating elements in Flash, such as timeline, library, drawing method, Sothink Quicker for Silverlight is emerged as an advanced, low cost but easy to use option for Silverlight animation design.
With Sothink Quicker for Silverlight, both professionals and novices can create interactive contents for websites and applications.
 
View Our Silverlight product >>
 
 
Download Sothink Quicker for Silverlight >>Â