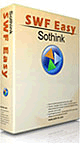 Sothink SWF Easy (original name: Glanda) has been released in Sep.29.
Free Download       More Info      View Samples made by SWF Easy
New featrues:
Support background scene to set uniform background corresponding to
foreground scenes.
Support importing video.
Support importing a swf file as a single movie clip.
Support selecting version of exported swf file.
Support Action Script 2.0.
Added an effect — Typing.
Added more resources.