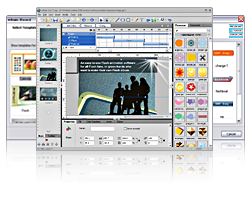 The most popular Flash banner maker, Sothink SWF Easy, has been released the latest version 6.3 several days before.
More information about this Flash banner maker>>
This powerful banner maker supports Windows 7 completely in V6.3, and the more users could enjoy the fantastic banner software from now on. Besides, it has enhanced a lot in other features, such as "added link settings for the main scene", "combined the tab 'Property' for object, movie and scene", "enable to replace element between the same or different file types", etc.
In this new version, the banner creator provides 60 new templates, a resource library with hundreds of elements, and 60+ Flash effects. The templates cover eight colors and four sizes which comply with general industry specs. The Flash effects can be combined freely to form numerous new effects. Moreover, it has optimized the window of the flash banner template as well.
The example at the left shows one banner template of 4 different dimensions, which is the new feature in Sothink SWF Easy 6.3, and more banner samples in original proportion are listed here >>
So, would you like to have a try? Try to create ad banner, simple flash, or even GIF animators with the banner design software?
Quick Start Guide for Flash Banner Maker >>
Download this latest version of the banner maker for experience >>