The image processing application, SoftOrbits Sketch Drawer has been designed to turn images into pencil sketches. This tool allows you to transform everyday photographs into pencil drawings, and advanced computer graphics. When you do a pencil sketch, you can choose the settings and parameters you like and transform digital photos into masterpieces.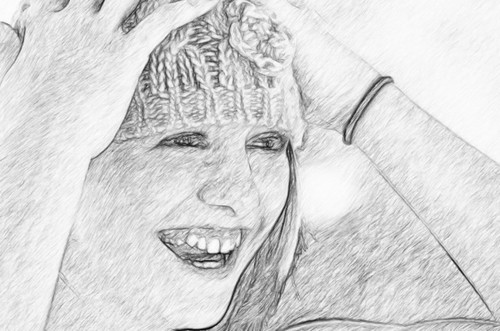 With only a few clicks, Sketch Drawer transforms photos into sketches. Even if you can't wield a pencil, Sketch Drawer creates a vibrant hand-drawn drawing from an average snapshot, laying down exact pencil strokes. It offers a lot of fun to software to turn photo into drawing.
The conversion takes little time and requires only a few clicks from the user. You can utilize pre-made presets or "experiment" with the detail, intensity, and paid version of feathering sliders. The effects of changing the sliders are visible in real-time on the preview option.
Although, only a fraction of the photo is captured when previewing. You'll have to wait for the photo to "process" entirely and save the final result. Users can also crop out unwanted parts of the image, resize it, and copy/paste it. BMP, JPG, PNG, BMP, TIF, ICO, PCX, PSD, and WMF are among the supported source formats.
SoftOrbits allows you to work with photographs in two ways: manually or by utilizing the built-in template. These templates can be used as starter training materials. Users can use the program to produce unique photos in the video that are sketches of traditional photography.
You can select your favourite settings and options when creating a pencil sketch. Switch to batch mode if you wish to stylize multiple images at the same time. When you operate in this mode, you can't add "special" settings for each image; instead, you can only process the images according to a single template.
Sketch Drawer can also add watermarks to the final product. Both normal and batch modes enable this functionality. The program "forcefully" adds its watermark in the demo version, but after acquiring a license, you can use your watermark or do without any marks at all.
Features of SoftOrbits Sketch Drawer
Below are the features that make the SoftOrbits sketch drawer unique.
Produce innovative pencil sketches- It couldn't be easier to do a colourful sketch with a sharp pencil in the right order. You don't even need to be able to handle a colour pencil to produce drawings. You can easily turn a photo into a sketch drawing. SoftOrbits Sketch Drawer makes it simple to produce both colour and black-and-white drawings. Drawn with coloured pencils by checking the "Color Drawing" box to convert images into a colourful sketch, or by leaving the box unchecked to draw with graphite pencils. It will just take a few clicks to convert photographs to sketchesand save them as JPEG files, which you can then edit. Convert photographs to sketches using a variety of creative possibilities.
Use batch mode- The program also offers a batch mode in which you can apply your settings to several drawings at once. The application has a variety of liqueurs that may be used to make a variety of figure types, including pencil, felt-tip and pen drawings.
Offers pre-configured parameter settings- With Sketch Drawer, you don't have to be an artist to create great drawings and sketches. The program has pre-made presets as well as the ability to custom configure the images.
It allows you to crop off sections of an image that you don't want.
Shows real-time changes in previews.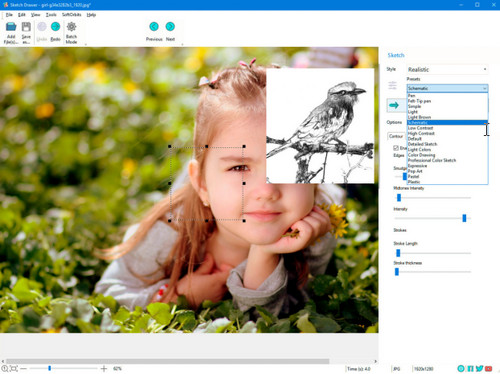 How to convert a photograph into a sketch using SoftOrbits Sketch Drawer
Even if you aren't an artist, transforming images into pencil sketches is surprisingly simple. In truth, all you need is a computer with a SoftOrbits sketch drawer to turn a photograph into a sketch. The program is quick, small, and extremely simple to use.
Open a photo, adjust the sliders till you're happy with the result, then click 'Save' to create a fantastic pencil sketch.
If you wish to transform a bunch of photographs into sketches using the same options, it's was. The Photo to Sketch Converter's batch mode makes it simple for even beginners to convert photos to sketches. SoftOrbits Sketch Drawer, on the other hand, can convert a single photo or an entire directory. Just be sure to tweak all of the parameters before you begin, and you'll be delighted with a series of flawless sketches in no time!
Create Colorful Pencil Sketches with a Click of a Button
Create Colorful Pencil Sketches with a Click of a Button To transform a photo into a colour sketch, tick the 'Color Sketch' box, or clear the box to sketch with coloured pencils. It will only take a few clicks and tweaks to convert photographs to sketches and save them as JPEG files. Convert photographs to sketches with a variety of artistic options.
Photo to Sketch Drawer also has the following capabilities:
Stencil drawing- You can use the Pen or Felt-tip presets to generate a stencil out of your photo. Stencils drawings make for a good drawing.
Create a line drawing from a photograph- With this preset, you may convert an image to line art by outlining it. You can choose from many presets when using this lineart maker, including simple, schematic, Felt-tip and Pen.
Conclusion
When it comes to pixel-accurate alterations made in real-time, these advanced photo editing features are fantastic. It's important to remember that you don't have to cling to a single strategy. You can use a mix of these settings to achieve the desired effect. Don't be scared to try new things and transform your photos into magnificent works of art. These artistic effects demonstrate SoftOrbits sketch drawer's formatting prowess, allowing you to transform simple colour images into a range of different sketches.