The website and its proper design is something that we will need for a very long time. Your story, business, blog… are nothing if they are not presented on the Internet. The Internet would not survive without websites. A website is not accomplished without a quality design. This chain is unbreakable.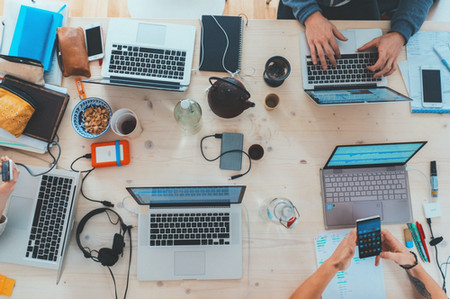 Whether it is creating that unique image for a campaign, creating a graphic for a game, building a custom theme for a website, or anything else from a design-related sphere, a web designer is what we will always need. And a synergy of a quality web design and a website that has huge conversion is a formula for success.
By announcing the following overall web trends that will pour into 2021, we announce the wake-up call for all webmasters to assess their websites and the way they are designed. So, if your site is really old and nonfunctional, now is the time to make new resolutions…
Visual Minimalism and Personalized User Experience
When it comes to web design, minimalism and simple forms take the lead over complex visuals. Although it is important to leave an impression on the user during the first visit to the website, the emphasis is more on the content itself and less on the visual effects. In addition, websites with a minimalist design rank better in search results, while clear UI and navigation require less time to load.
UX, i.e. user experience, is also a dominant factor in designing websites. Trends dictate that special attention should be paid to the types of users who visit the website and the creation of a personalized UI based on that. All this with an ultimate purpose – to increase traffic to the site and the time spent on it.
AI and Chatbots Are Becoming Even More Advanced
Next year, chatbots will become more prevalent on websites, especially in customer support. Artificial intelligence through the ability to analyze data enables the solution of various user requirements.
The possibility of cognitive 'human' actions, such as empathy and common sense, is what makes them even more advanced.
Adapting Sites to Users With Disabilities
One of the obligatory functionalities of the site is its accessibility to everyone. In this way, the site can be used by people who are not able to control the keyboard and mouse, as well as blind and partially sighted people. Such customized sites are positioned at the top of Internet search and expand the number of potential users.
Speech navigation and screen readers are just some of the technologies that help to use sites whose content is user-friendly for all users.
Cybersecurity
Data security on the Internet used to be optional, except in the case of online payments. Today, special attention is paid to data protection, especially after hacker attacks on the servers of world-famous Internet companies.
With the advancement of technology, cybercrime continues to look for flaws in security systems. This requires a greater investment in cybersecurity in order to better protect user data, and thus the site's reputation.
Instant Apps
It was 2016 when instant applications were introduced in the world of software development. They have app features but work as a website. You do not have to download them, which means you do not have to provide them with your device's memory. They can also be used for testing purposes.
Developers run these applications to test the ones they are working on before launching them. They are smaller in size than conventional applications, offer a better user experience, and a better conversion rate. Looking at their strategic importance, it is expected that in 2021, the number of instant applications will increase.
Dark and Light Mode
The ability to switch from dark mode to light mode and vice versa has long been available on macOS and, with Windows 10, for PC users as well. Personally, we tend to use dark mode because it is easier on the eyes for long periods of time. This ability to switch between modes also applies to your web browsers, such as Chrome or Safari, and yet this mode has not affected the overall style of the viewed website.
The web developers are now working with toolboxes and standards, both on Safari and Chrome, which allow your browser to detect mode (light or dark) that you use on your operating system, and change the scheme colors of the website to react accordingly. It will be up to the web designers to decide whether they want to enable this feature on their sites and how best to adopt a style that works.
There are a number of guides and tips on how to design in a dark mode that can help designers and developers take advantage of this new possibility, and let users decide for themselves what they prefer.
Ipstack
Ipstack allows you to locate and identify website visitors with an IP address, in accordance with the GDPR. It is extremely useful for several reasons, but also for a simple one – knowing who is coming to your website is one of the most valued tools for improving it. There are five different modules installed within an ipstack.
The location module provides information about the location of the visitor, all the way to the zip code. Thanks to them, you can optimize ad targeting based on geolocation. The currency module provides a report on the primary currency used in the visitor's region, and the time zone module provides local time in the visitor's country. Guessing and inaccurate counting are now history.
You can use the plugin to gather valuable information about the ASN and hostname of the Internet services used by website visitors. Security is a big thing for many users, and the security module allows you to feel comfortable at all times. Ipstack will also detect any proxy servers, indexes, or browsers.
An ipstack is fast and has earned the trust of the biggest names in the world of technology. On top of all that, they partner with the largest ISPs around the world, so you can be sure that the information you receive is 100% accurate.
All in all, the new year will bring new possibilities, especially in web design. With technology advancing at an unprecedented rate, the design possibilities seem limitless for the coming year. We tried to bring in a new perspective in regard to what we will see in the web sphere 2021. Let's hope some of these trends, i.e. our predictions will come true.