In the past few years, the number of digital buyers has grown tremendously. They found online shopping to be more convenient and come with a better range of choices.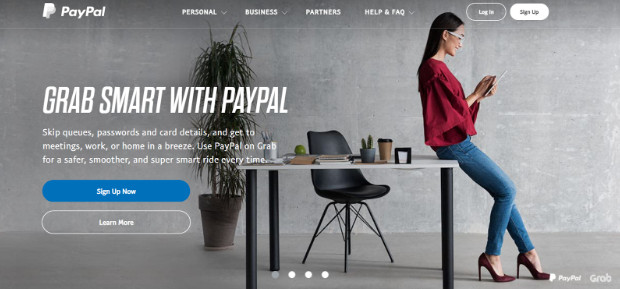 However, with a
69.80% average cart abandonment rate
, many shoppers don't finish their purchase. A few reasons for cart abandonment include concerns about payment security, confusing checkout process, having to create a user account, and declined credit cards.
That being said, it's important to choose a reliable online payment solution. So far, PayPal is the preferred payment method for online shoppers worldwide, followed by credit card and debit card transactions.
Therefore, your WordPress eCommerce site must offer top payment solutions for prospective buyers. Not only will this reduce the cart abandonment rate, but it'll also increase sales and repeat purchases.
But before choosing and installing any payment gateways, make sure to pick a reliable WordPress hosting for your website. Look for a plan with an uptime guarantee and unlimited bandwidth to support your eCommerce site.
With that in mind, let's take a look at nine online payment solutions and see which best suits your WordPress site.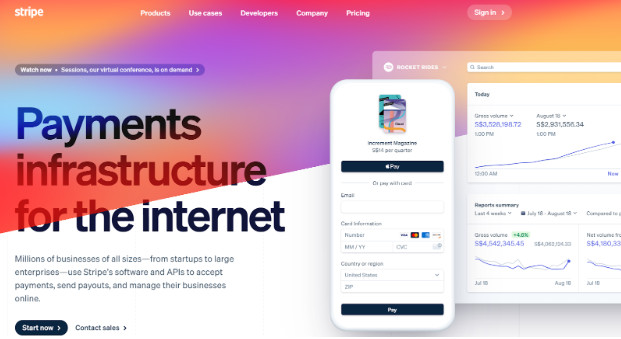 Stripe is one of the most popular payment gateways for WordPress sites. It supports integration with WordPress plugins, such as WooCommerce, Easy Digital Downloads, and GiveWP to provide a seamless online shopping experience.
Its popularity is also due to its anti-fraud measures and easy checkout flow.
Stripe uses machine learning to decrease fraud, and each account comes pre-built with fraud prevention. This online service automatically scores every transaction for risk. Additionally, it comes with custom rules, allow and block lists, and other advanced fraud insights to keep your online store safe.
Its payment page is friction-free, providing customers with an easy checkout experience. Moreover, the page adapts to the customer's language and supports relevant global payment methods, such as WeChat Pay, EPS, and iDEAL.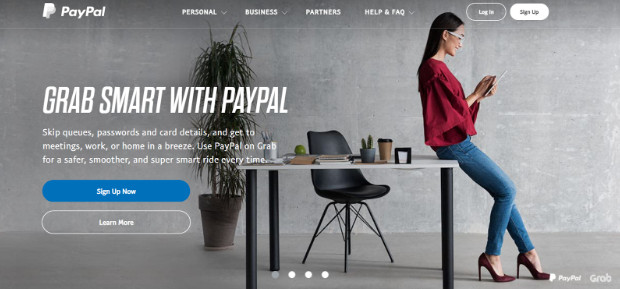 PayPal is one of the pioneers in the online payment industry. In fact, consumers are 54% more likely to buy from a business that accepts PayPal, and 59% of PayPal users have abandoned a transaction because this method wasn't an option.
Therefore, having PayPal as one of your payment methods can increase conversion.
Other than that, this service is flexible as it offers more than 100 currencies from over 200 countries around the world. Customers without a PayPal account can pay with their debit or credit cards. Alternatively, customers can also pay using regional payment options.
You can also enable Pay Later messaging on your site to inform visitors about further payment options. This helps improve conversion rates since shoppers are more likely to purchase with pay later.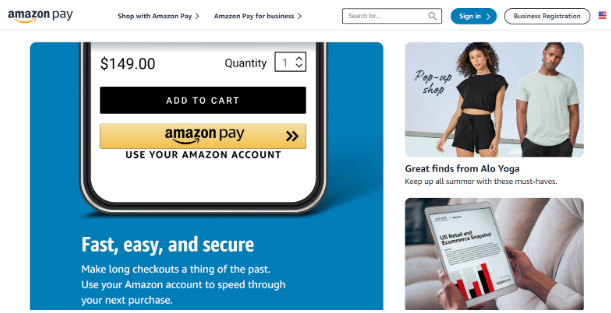 Adding Amazon Pay as a payment method to your store can increase sales since Amazon has 300 million active users.
With Amazon Pay, customers can easily make a purchase in your store by logging into their Amazon account. The information details such as address and payment credentials will automatically be filled in, which saves the hassle for the customer when checking out, even as a guest.
Amazon Pay offers extra assurance on delivery time and order quality to increase customers' confidence to complete their purchase.
Additionally, it comes with a payment protection policy to protect against fraud-related chargebacks.
Amazon Pay also features automatic decline handling to reduce lost sales. It provides customers with a consistent experience to recover from a declined payment, so customers are familiar with the process and can get through it quickly.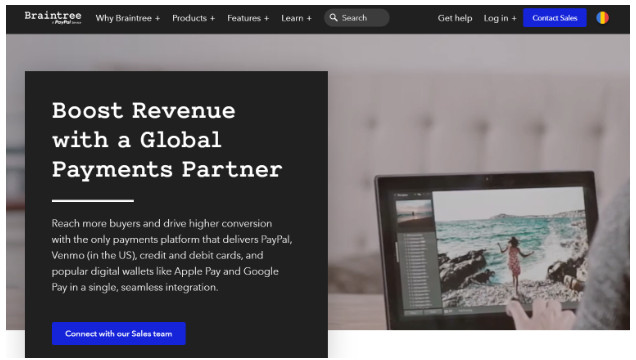 Braintree was acquired by PayPal in 2013, and since then, has become the leading online payment system for digital wallets such as Venmo in the US and other options such as Apple Pay and Google Pay for global customers.
This service also accepts credit and debit cards from major brands across the globe. It supports Mastercard, Visa, and Discover.
Additionally, Braintree provides easy access to popular local online payment methods such as BLIK for Polish customers and GiroPay for German users.
Braintree is also optimized for web and mobile checkout so that customers can purchase using any device without any trouble.

Square is an all-in-one payment solution for your WordPress online store. It provides order fulfillment options, CRM tools, and integration with WooCommerce and WP EasyCart.
The system is secure with account protection tools, such as 2-Step Verification and suspicious transactions monitoring.
Additionally, Square spots and blocks payment fraud with payment monitoring and risk evaluations. Every debit and credit card payment is screened to surface suspicious online transactions. On top of that, each transaction is evaluated with the results accessible in your dashboard.
Other than emphasizing security, Square also offers complete sales reporting and unified customer data. These tools will help get a view of the customer's purchase behavior, understand their preferences, and send targeted email marketing campaigns to increase sales.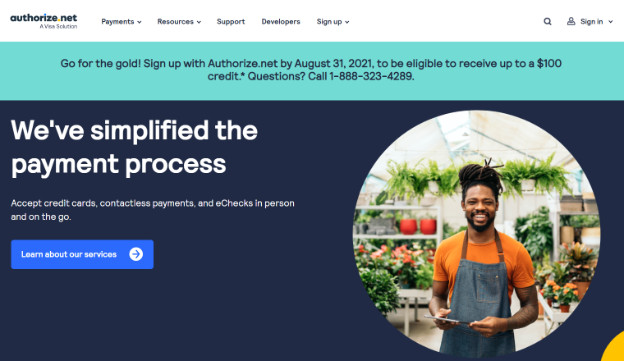 This payment gateway accepts a wide range of payment options ranging from cards, eChecks, to digital payments, such as Visa Click to Pay and Apple Pay.
Authorize.net also comes with advanced fraud detection and secure customer data storage to minimize risks for your business.
Another mention-worthy feature is its simple checkout, where merchants can add a Buy Now or Donate button to their website and have customers make a purchase quickly and easily.
It also comes with a customer information manager, where returning customers can pay without re-entering payment details.
In addition, customers can also submit monthly recurring payments with Automated Recurring Billing, which is great for subscription-based businesses or those with a history of repeat customers.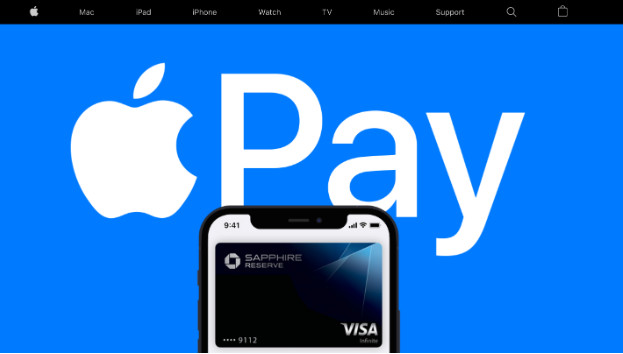 Apple Pay allows customers to make a purchase on their Apple devices, such as iPhone, iPad, and Mac. Shoppers can easily make payments on the Safari web browser.
Additionally, people can enjoy a faster checkout experience without having to fill in lengthy information forms. This increases checkout speed for Apple users and improves purchase frequency. 
Apple Pay also ensures privacy and security for shoppers as all transactions require authentication with a passcode, Face ID, or Touch ID.
Use it with a WordPress extension to enable Apple Pay on your WordPress site, such as WooCommerce Payments, Stripe, or Square.
Simply download and install either one of the extensions and configure the Apple Pay method.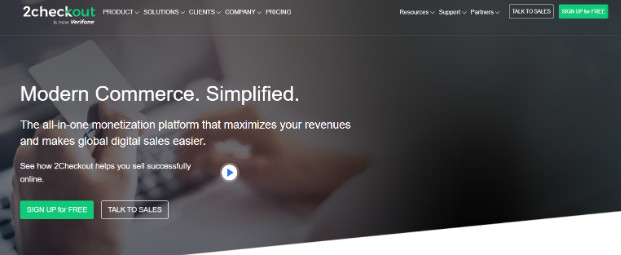 2checkout accepts online payments from all over the world. It covers 200 countries, more than 130 currencies, with over 45 payment methods. So if your eCommerce store is selling to a worldwide audience, this payment processing system might be the best option for you.
2checkout offers a mobile-friendly cart to increase conversion rates due to its seamless shopping experience. You can select from a gallery of cart templates and customize them with the built-in cart editor. 
You'll also be able to refine and optimize the shopper's purchasing journey using the platform's A/B testing tool. This is essential to increase conversion rates by improving the cart layout and purchase flow.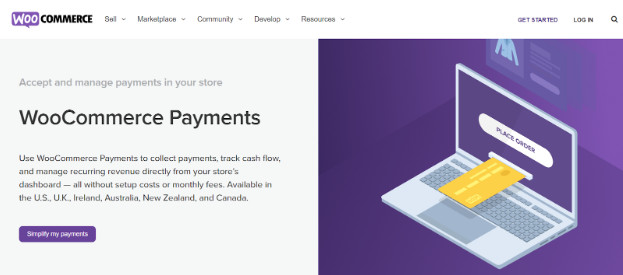 WooCommerce Payments is built specifically for WooCommerce stores. So if you used a WooCommerce plugin to set up your WordPress store, this payment gateway would suit you perfectly.
WooCommerce Payments is a fully integrated payment solution. It allows users to track cash flow, collect payments, and manage recurring revenue from the store's dashboard.
Additionally, it simplifies your workflow. Merchants can conveniently manage everything from the dashboard without needing to log in to a third-party payment processor site.
Your customers also pay directly on your store instead of being redirected to a third-party checkout page, which creates a seamless experience that results in fewer abandoned carts.
Moreover, shoppers can see prices and pay in their preferred currency as WooCommerce Payments accepts over 135 currencies. It also accepts major credit and debit card payments.
After getting paid, merchants can immediately transfer earnings to their debit card within minutes – be it on the weekends or holidays.
Conclusion
With the constant rise of digital buyers, it's critical to provide them with a seamless checkout process.
One way to do that is to include reliable payment methods in your online store, such as PayPal, Stripe, and Square.
Other trustworthy online payment solutions mentioned in this article include Amazon Pay, Braintree, Authorize.net, Apple Pay, 2checkout, and WooCommerce Payments.
These payment solutions will give buyers a familiar payment process, resulting in increased buyers' trust and a reduced cart abandonment rate.
Hopefully, this article was helpful to you in deciding which payment solution will work best for your eCommerce business.