3 Best Programming Languages
IProgramming languages are useful to learn for coding. Programming can give the user a sense of accomplishment and strong problem solving skills. Programming homework help can assist with finding help for programming problems. This article will discuss the 3 best programming languages.
JavaScript
JavaScript is an excellent programming language to learn. JavaScript is a programming language that's text based. This programming language is used for making web pages interactive. There are many examples of JavaScript that people may use each day. Common examples are the search box on Amazon, refreshing your Instagram feed, and news recap video on the Good Morning, America website. JavaScript can convert a static web page into an interactive one. An interactive web page draws more visitors to check out the site. This is useful for companies and businesses whom are interested in promoting their services or products. Due to the fact that JavaScript allows web pages to be interactive, there are numerous ways that it can achieve this with adding interactive behavior. One of the ways that it can interact with web pages is by showing and hiding information with click of a button, zooming in and out of images, playing audio and video, and displaying animations.
JavaScript also has another advantage as an excellent programming language to learn. It can help users with creating web and mobile apps. It can create apps for the web and mobile devices by using frameworks. These frameworks are in JavaScript code libraries. The libraries come with pre-developed code. The code can be used for building websites and mobile apps for phones.
Swift
Swift is a programming language that is used the by the company, Apple. It came into prominence in 2014. It was introduced at the Worldwide Developer Conference. The programming language underwent several changes. The last recent change occurred in 2019 when the language was upgraded to share binary frameworks. The Swift programming language can run on every iPhone and iPad devices. iPhones and iPads are some of the most popular devices in the world. Swift also serves as the genesis for watch OS and TV OS. Watch OS is the operating system that is used in Apple Watches. TV OS is the operating system used in Apple TVs.
Python
Python is another programming language that people can learn. Python is known to be one of the most-friendly programming languages. It shares similarities to the Java programming language. The Python's syntax is intuitive and clear, so it's very popular for beginners' coders. This programming language has several usages in the technology industry.
Python is used in web and internet development, business applications, Machine learning space, and scientific applications. Python is used in back-end and web development. It accomplishes this by using the Django framework. The Django framework is open-source. It's written in Python. Django is easy to learn. In addition to being easy to learn, Django is also used on Mozilla and Instagram. Python has packages that are used in engineering. NumPy is an example of a Python package.
- DIY vectorl logo design in minutes

It is an intuitive and extremely simple logo design tool for you to fast design company logo, business logo, web signature, button, icon, etc. Rich built-in templates, preset color & effect styles, and well designed logo images will fully satisfy your needs and make your logo unique. The great editing capability also ensures a smooth and pleasant logo design process.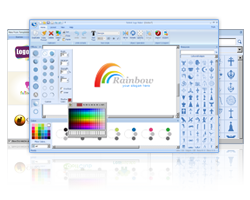 Sothink SWF Decompiler
Logo Maker Pro