Dear all,
We are so glad to announce the release of
Sothink SWF Catcher
-the ultimate Flash SWF downloader that ever been.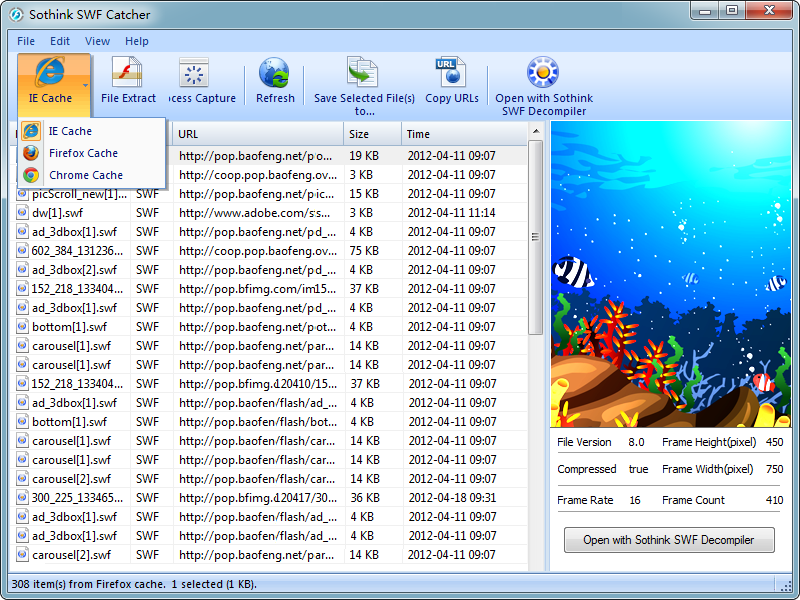 What is Sothink SWF Catcher?
As a brand new product, Sothink SWF Catcher is a professional SWF software for all Flash practitioners. Like the name mentioned, it catches SWF files.
What can Sothink SWF Catcher do for you?
Sothink SWF Catcher provides 3 ways that catch almost all the SWF file as needed. You can
capture SWF file from browsers cache, extract SWF from local files and catch SWF from present processes
.
What's the difference to the previous add-ons?
Sothink enthusiasts would know that we have add-ons like SWF Catcher for Firefox, IE and etc. The difference to the previous is the new product is
much much more powerful
. No matter which way to choose, all the SWF files will be captured on the working interface regardless of browsers, local or present processes.

Who need Sothink SWF Catcher?
All the Flash practitioners like flash designer, developer, teacher, fans and etc.
Sothink SWF Catcher can catch all kinds of SWF files like animation, advertisement, music, movie, game, banner, cards, etc. For more detailed information about Sothink SWF Catcher, please refer to the link below.
http://www.sothink.com/product/swfcatcher/
If you have any further queries, feel free to contact us at
support@sothink.com
.
Have fun!