In Expression Web/DW CS3:
Problem:
The program prompt you "failed to install it as a Dreamweaver extension" error message in Dreamweaver CS3:
Solution:
1. Right click the icon of the program, and choose "Properties", just like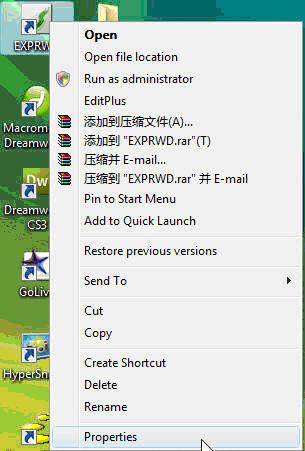 2. You can check "Run this program as administrator" option under "Privilege Level" in the dialogue.
In Expression Web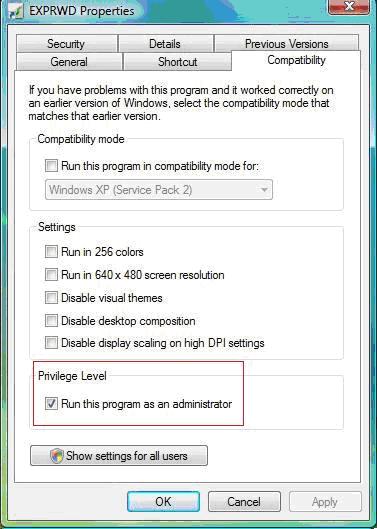 In Dreamweaver CS3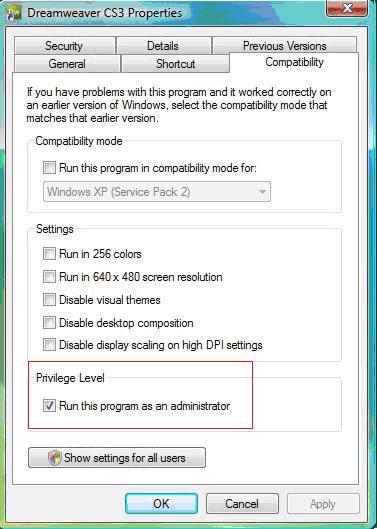 Another Solution for DW CS3 users!

(NEW)
From an Administrator account, run the registry editor, RegEdit.exe. Navigate to HKEY_LOCAL_MACHINE\Software\Licenses. Right-click on that key in the left pane (the one that shows folders) and select "Permissions". Use the Remove button to remove all users and groups from the permissions box, then click the Add button. In the "Enter the object names to select" box, type "Everyone" (without the quotes), then click the Check Names button -- the Everyone you just typed should become underlined, if the system recognizes it. Click OK to return to the main permissions dialog; you'll now see only one entry, for the Everyone group. Below it, select the box for "Full Control - Allow", which should also turn on Read - Allow. Then hit the OK button to finish it.Alternatively, once you've navigated to the proper key, just hit the keyboard's Delete button to wipe it out, and the program will re-create it with the proper permissions.