Download Sothink SWF Decompiler Mac 7.4
As the first Flash decompiling tool emerged into the market, Sothink SWF Decompiler for Mac is the perfect solution for you to convert SWF to FLA. Version 7.4 supports exporting FLA in Flash CS6.

30-day Free Trial
Multi-language: EN, DE, FR

Convert Flash to HTML5 files
Decompile Flash CS5 SWF to XFL
Convert SWF to FLA
Convert SWF to Flex source code
Extract SWF elements
Replace SWF elements
Export FLA as Flash CS6 format
Limitation of Sothink SWF Decompiler for Mac Trial Version
1. Before registration, only the first TWO resources in each category can be exported. However, the "Video" type resources only can be previewed but cannot be exported;
2. The ActionScript files are unable to be viewed, and there is no Action in the exported FLA file.
3. When choose the resource type folder, you cannot preview all the resources directly. Instead, you need to expand the folder and click each to preview.
Read step-by-step instructions on How to unlock Sothink SWF Decompiler for Mac? >>
Upgrade Sothink SWF Decompiler for Mac
Sothink SWF Decompiler for Mac has been optimized and upgraded to a new version. Check below to view upgrade steps:
Flash Decompiler Mac Features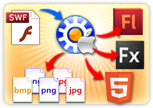 Industry-leading Flash Decompiler Mac
Convert SWF to FLA or FLEX SWF to FLEX project
Get XFL from Flash CS5 SWF
Extract SWF elements
Convert Flash to HTML5 files
Replace image/shape/text/sound for SWF
Multi-language interfaces: English, German and French
Export FLA as Flash CS6 format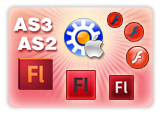 Full Compatibility
Support Flash 6/7(MX 2004)/8/9(CS3)/10(CS4)/CS5/CS6
Support ActionScript 2.0/3.0
Support Flash components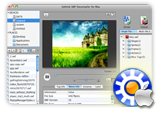 Powerful Flash Decompile Capability
Decompile SWF on Mac in batch mode
Navigate and browse resources in preview window before SWF decompile
Decompile ActionScript 2.0/3.0 and display the readable code in ActionScript window with syntax highlighting
Decompile SWF containing TLF text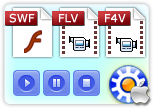 Useful Assistance
Smoothly play FLV/F4V in the preview window
View detailed properties of elements in Flash movies
Auto-display last three export folders when choosing the export path
View the list of recently browsed SWF files conveniently


100% Clean - No need to worry about installing unwanted spyware or adware. Uninstallation is completely supported.


Life-time Free Support - Send an email to our customer service team at support@sothink.com whenever you need help.


Risk Free Guarantee - Shop safely in our secure online store. Your data and personal information are protected.
Product Info
File Size:

23 MB

Latest version:

7.1

Build number:

1899

Release date:

May 3, 2012

Uninstall:

Supported

System Requirements:


Mac OS X 10.6 or above
Reviews
"I was always a fans of the sothink swf decompiler for Win. And now i can use it on Mac! Exciting! User friendly interface, extracts SWF effortlessly and quickly."

"Thank you for sorting that out quickly for me. Using your product now - seems very good : ) I posted on your forum too."


Related Products
Recommend Products