How to Make GIF Valentine's Card Quickly
An Animated Valentine's Day Card is a good choice of expressing your feelings and wishes about love. Things will be funnier if the Valentine's Day Card is made by yourselves. Or even more, it is sent to him or her as a GIF animation when chatting or as an AVI video on mobile.

With the built-in resources, Sothink SWF Easy can easily and quickly make Flash greeting card and export it as SWF file, GIF file and AVI file.

Tool Used in this Tutorial:
Sothink SWF Easy 6.2

Step 1: Set Main Movie's Properties
Launch Sothink SWF Easy 6.2, click the canvas and then go to the Properties panel. Now the Properties panel is for the whole animation, set Width and Height of the whole animation as 500 and 500.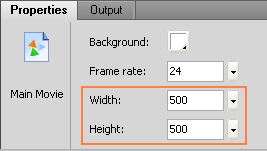 Step 2: Search Greeting Card from Resources
Go to Resource panel, input "greeting" in the blank and click Search button. Then, all the resources relative with "greeting" will list in the panel. Select "kiss.glm" from the list and double click it to add it onto the canvas.

Step 3: Edit the Card
Select the card on the canvas, and go to Properties panel. Under the Properties panel of the greeting card, click button Advanced to open dialog Advanced.
Under tab Text, click button Edit Text to change the text on the card.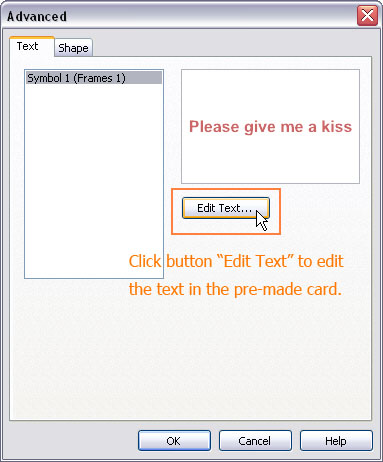 After clicking button Edit Text, it appears dialog Edit Text. Here you can change text and do some other text setting. For Valentine, this time we input text "Happy Valentine's Day!". Then click button OK to save the changes.

You may also edit the shapes and colors of the card through dialog Advanced. And after edit it, on the canvas you may add some elements to make the Valentine's card more stylish. The sample we made is added text and text effects.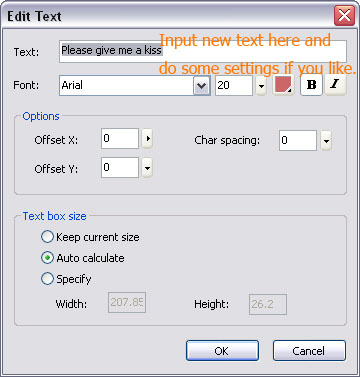 Step 4: Export Movie as GIF file
Usually users make Flash animation and export is as SWF file. Now Sothink SWF Easy 6.1 supports exporting Flash animation as GIF and AVI files. If you need an animated Greeting card of GIF format, you may easily get it.

Go to Toolbar on the top of the program. Click button Export. It pops up a list for you to choose exporting ways. Here you select Export Movie to choose exporting formats.

After selecting Export Movie, it appears dialog Export for you specifying exporting format. In the dialog, click the drop-down arrow besides "Save as type" and select "Animated GIF" from the list.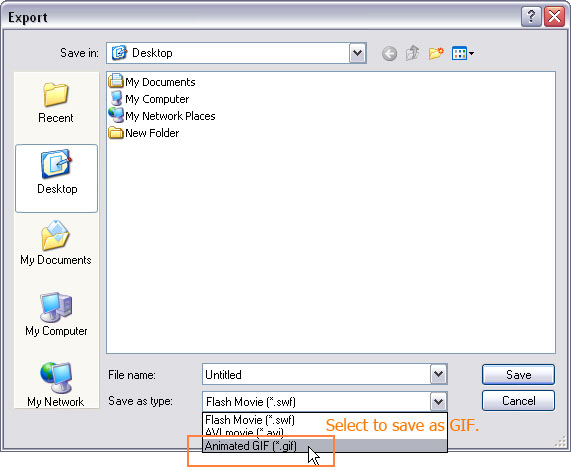 Then it pops up dialog GIF Settings. Here you may just click button OK to save the default settings. Or you may also changes the Width and Height of the GIF which will be exported.
Step 5: Add Text Effect
To make the Valentine's Card more special, you may add some other elements on it, like text and animated effect. Here we add a text at the bottom of the card and add effect to this text.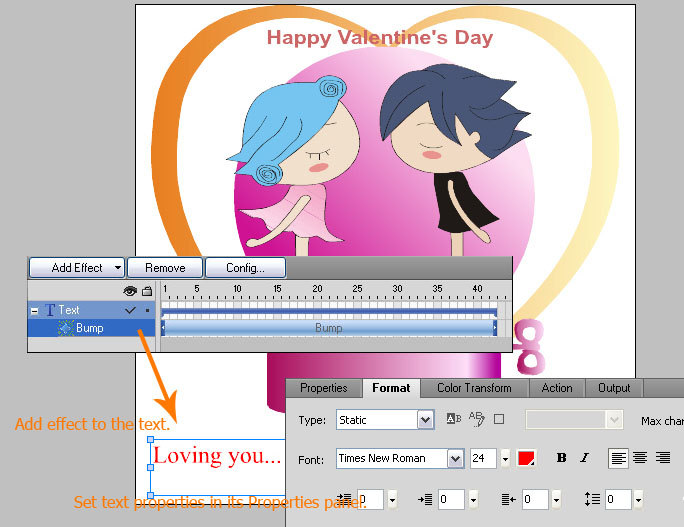 Wish the animated Valentine's card brings you and your sweetheart happiness. Happy Valentine's Day!