- Decompile Flash on Mac OX

Flash OS X Decmpiler is another name of Sothink SWF Decompiler for Mac, which is a professional tool to decompile

Flash to FLA/FLEX

or

Flash to HTML5

on OS X.
The program can also extract the elements of FLash into various formats at one time, such as shape, image, sound, font, text, sprite, button, frame and action. Moreover, the outstanding Flash OS X Decmpiler supports Flash 6, Flash MX 2004, Flash 8, Flash CS3 and

Flash CS4

. Plus, it is fully compatible with ActionScript 2 and ActionScript 3.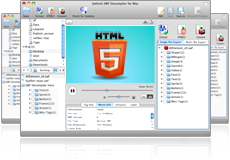 How to capture Flash and decompile it on OS X?
To capture Flash on OS X, please refer to the following steps:
1. Install Sothink SWF Catcher for Safari to your computer at first.
2. Open the webpage that contains the Flash you want with Safari.
3. Go to menu bar of the browser and click "SWFCacther > Run SWFCatcher" button.
4. Choose the save path for the Flash file and click "Save" in the next pop-up window.
5. Click "Open with SWF Decompiler" button and decompile the Flash with the Flash OS X Decompiler at last.
P.S. As to the detailed instrctions, we suggest you refer to the tutuorials below:
How to capture Flash by SWF Catcher for Safari? >>
Main Features
Export Flash to FLA/FLEX project

The Flash OS X Decompiler supports exporting one or more Flash files to FLA/Flex project at one time completely.

Extract SWF Resources

With this Flash OS X Decompiler, you can also extract SWF resources such as shape, morph shape, image, sound, font and action into various formats.

Compatible with AS2 & AS3

This Flash OS X Decompiler supports Flash 6 ~ Flash 10, and it is fully compatible with ActionScript 2 and Actionscript 3.

Multi-Language Interface

Multi-language version including English, German and French is available, so you can choose the familiar language interface to work with.

100% Clean - No need to worry about installing unwanted spyware or adware. Uninstallation is completely supported.


Life-time Free Support - Send an email to our customer service team at support@sothink.com whenever you need help.


Risk Free Guarantee - Shop safely in our secure online store. Your data and personal information are protected.
Review
by Ofena

I was always a fans of the sothink swf decompiler for Win. And now i can use it on Mac! Exciting! User friendly interface, extracts SWF effortlessly and quickly.

by Stuart McNeill

Thank you for sorting that out quickly for me. Using your product now - seems very good : ) I posted on your forum too.
System Requirements

Mac OS X 10.4 or above, Mac OS X 10.6 Snow Leopard, which is installed Flash player plug-in.