Interface --- Sothink Logo Maker
The user interface of the program contains eight parts: Logo Menu, Quick Access Toolbar, Ribbon Menu, Canvas, Effects Panel, Colors Panel, Resources Panel and Status Bar.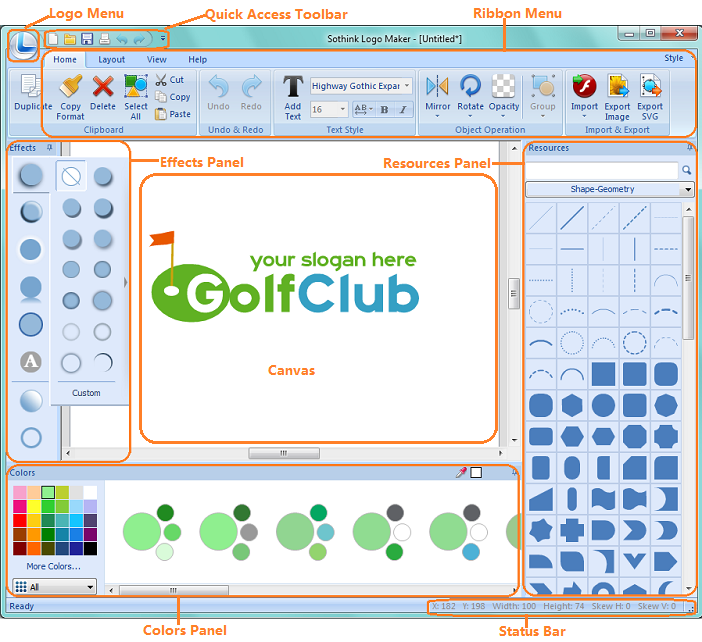 The Logo Menu bar lists all the buttons related to logo file. You can start and finish your logo designing here.
The Ribbon Menu contains four tabs: Home, Layout, View and Help. All related tool buttons are listed below these categories.
The buttons on the Quick Access Toolbar are shortcut menu for the most frequently used functions. Users can customize to determine which buttons you want to be showed on the interface.
Logo is created on Canvas. What you see on the canvas is what you get.
The various preset effects are listed in Effects Panel, including text effect. Enable to customize effect here.
It lists 600+ color schemes in Colors Panel, you can filter color schemes by main color and category and apply these matching colors to objects directly or customize the colors.
It lists all the resources in Resources Panel. All the resources here could be freely added onto canvas and be edited for logo creation.
Here displays some relative information about the selected object on the canvas, including position, width, height and rotate state.
Note: X and Y refer to object's registration point. The Registration Point is the origin for scaling and position changes. It simplifies X and Y coordinate calculations, letting us know the object's coordinates properly.