5 Benefits for You to Decompile SWF on Mac
Why Flash decompiler tools are so popular on the Internet? See the following five reasons to find out the benefits for you to decompile SWF on Mac:
1. Decompile Flash CS5 SWF to XFL format
The suggested Sothink SWF Decompiler for Mac 6.0 owns the capability to decompile the latest Adobe Flash CS5, thus you will be able to get XFL file from the Flash CS5 SWF. I think this will be an exciting news to all Flash fans.
2. Recover SWF to FLA file or Flex sources
You can easily restore your original FLA file or Flex project from SWF, which will surely saves your time and efforts to develop or modify your Flash movies.
3. Export SWF resources
It's a great way to enrich your Flash design resources. You can extract desired SWF elements from existing SWF files and add them into your own Flash movies. Almost all SWF resources can be easily extracted, like shapes, images, sounds (*.mp3 or *.wav), videos (*.flv), fonts, texts, buttons, sprites, ActionScript, etc.
4. Batch conversion saves your time
You can deal with lots of SWF files at the same time. This Flash Decompiler for Mac enables you to convert multiple SWF files to FLA, or export the SWF resources to certain file format in batch.
5. Improve your own Flash skills by learning from others
This is one of the most important benefits of using a Flash Decompiler. After you decompiling a SWF into FLA, you can simply peek in the SWF source code (FLA) to find out how exactly the dazzling animation effects were created. Therefore, you needn't trying to reinvent the effects totally by yourself. In this way, you can improve so fast in Flash skills and maybe achieve greater results.
Sothink SWF Decompiler for Mac
Recommended Mac Flash Decompiler: Sothink SWF Decompiler for Mac 7.4
Download suggested software to decompile SWF on Mac >> (30-day free trial)
With the suggested SWF Decompiler for Mac, you can take only three simple steps to decompile SWF on Mac, as follows:
Step 1: Launch Sothink SWF Decompiler for Mac, and then from left explorer panel to navigate to the target SWF file that you want to decompile.
Step 2: Choose the target SWF file, and it will be automatically played in the central preview window. Moreover, all the SWF resources will be decompiled and listed in the right "Resources" panel.
Step 3: Go to the "Resources" panel, and click "Export FLA/FLEX" button to export the decompiled SWF as a FLA file, or click "Export Resources" to extract SWF elements, depending on your requirements.
The most stable and feature-rich Flash Decompiler Mac to decompile SWF on Mac. It converts SWF to FLA/FLEX/HTML5. Easily extracts Flash resources like shapes, images, sounds (mp3, wav), videos (flv), ActionScript, etc.

This Flash Decompiler Mac supports Flash CS3/CS4/CS5/CS6 and ActionScript 2.0/3.0; Supports Flash components; Gets XFL file from Flash CS5 SWF; Smoothly plays FLV/F4V; Displays detailed properties of SWF elements; Exports SWF resources in batch; Multilingual and user-friendly.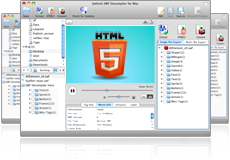 100% Clean - No need to worry about installing unwanted spyware or adware. Uninstallation is completely supported.


Life-time Free Support - Send an email to our customer service team at support@sothink.com whenever you need help.


Risk Free Guarantee - Shop safely in our secure online store. Your data and personal information are protected.