Flash Menu Download
Sothink Flash Menu builder allows you to create attractive & amazing cross-browser Flash drop down menu in clicks. Built-in templates, fascinating Flash menu with special effects, diverse preset styles and image library, make SE friendly Flash menus without coding. Fully customize web menu style. XML supported. Intuitive interface.

Stunning Effects & Templates

Rich Built-in Resources
Search Engine Friendly
Create multi-functional Flash menus
Customize the web menu style fully
Show Flash menu above web elements
Limitation of Trial Version
The unregistered version can be used in 30 days only for evaluation purpose. Before registration, it only supports generating THREE links for menu items when you preview or publish the menu.
Read a step-by-step guide on how to unlock Sothink Flash Menu >>
Flash Menu Main Features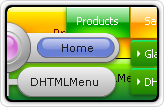 Rich Built-in Resources
68 built-in templates can be used to website directly
50 amazing special menu effects for showing or hiding sub-menu
35 preset styles are ready for menu item
4 categories of Image library for different menu elements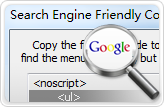 Search Engine Friendly
Search Engine Friendly Code Maker generates SE friendly code
Google XML Sitemap can generate code and save sitemap in XML format
"Generate Sitemap" generates navigation page by analyzing menu in web site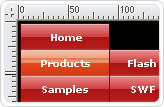 Intuitive Interface
Variable layout makes layout flexible
Preview window enables you to view Flash menu instantly
Publish wizard guides Flash drop down menu publishing website step by step.
Ruler to layout Flash menu precisely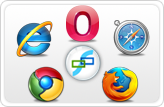 Functional Menus
Cross-browser menu works well in most browsers on platforms
Float menu locates in a fixed position on webpage without table or div
Show Flash menu above web elements
Scrollable menu scrolls Flash menu following to slidebar; auto-scrolling menu lets long sub-item scrolling
Highlight menu shows where the user is on the web site
Multi-column menu groups sub-menu in a table
Disable items and separators
Support Non-English language menu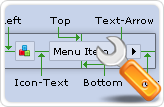 Customizable Menu
Make horizontal or vertical menu of unlimited levels
One menu in multi-page and one page with multi-menu
Add sound for popup menu
Auto-adjust item size based on modification
Auto-calculate menu size to show Flash menu completely on page
Embed font to present the same Flash menu

Set margin, space for menu item and popup menu
Set menu width in percentage
Click to show sub menu
Customize the cursor image for link status
Add separator to divide menu items
Set background, icon, transparent for menu item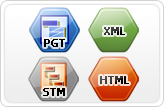 More Functions
Support XML/HTML/image as menu item
Import DHTML/tree menu to create menu
Copy and Paste items in one or two windows
Support W3C Valid XHTML1.0
Support any DOCTYPEs
Support UTF-8

100% Clean - No need to worry about installing unwanted spyware or adware. Uninstallation is completely supported.


Life-time Free Support - Send an email to our customer service team at support@sothink.com whenever you need help.


Risk Free Guarantee - Shop safely in our secure online store. Your data and personal information are protected.
Quick links
Product Info
File Size:

10.7 MB

Latest version:

1.2

Build number:

113

Release date:

Mar 15, 2011

Uninstall:

Supported

System Requirements:
Windows 7 32/64-bit
Windows Vista 32/64-bit
Windows XP 32/64-bit
IE 6+
Related Products
Recommend Products