How to convert Flash SWF to FLEX project?
No FLEX project, can you edit and modify FLEX SWF to create new SWF file in FLEX builder? Of course, you can do it with the help of Sothink SWF Decompiler 5.1 and later ones. It can decompile SWF to FLEX project, and get resources from FLEX SWF. Also, you can decompile FLEX SWF to FLA, and edit FLA in Flash tool.
What's FLEX? And What's FLEX project?
FLEX is a free, open source framework for building highly interactive, expressive web applications that deploy consistently on all major browsers, desktops, and operating systems. It provides a modern, standards-based language and programming model. FLEX also includes a rich component library with more than 100 proven, extensible UI components for creating rich Internet applications (RIAs), as well as an interactive Flex application debugger. (From Adobe)
FLEX project refers to the necessary FLEX file collections, which are source files to edit the FLEX SWF in FLEX builder.
Now, let's view the tutorial below, and get more about how to convert Flash SWF to FLEX project. You will find how simple the decompiling work it is.
Step 1: Open SWF file in Sothink SWF Decompiler
1. Launch Sothink SWF Decompiler. ( Download the latest Sothink SWF Decompiler >>)
2. From the "Explorer" window, browse the folder, and choose a SWF file. This SWF file is automatically appeared in the below panel.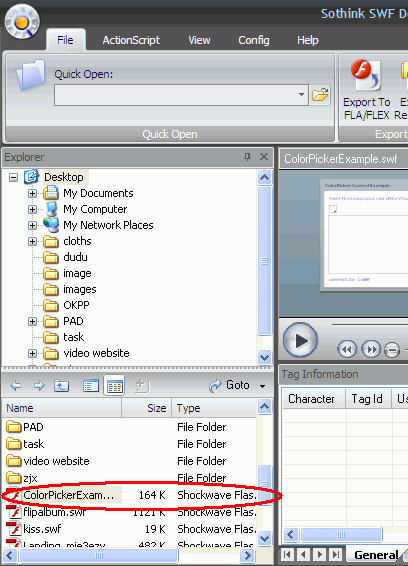 3. Select SWF file, and then it will begin to play in the preview window. In "Resources" panel, you will see the FLEX icon, which means that SWF file is built by FLEX. Click the "+" sign to expand the files, and then all of the elements contained in the SWF are analyzed and listed in this panel.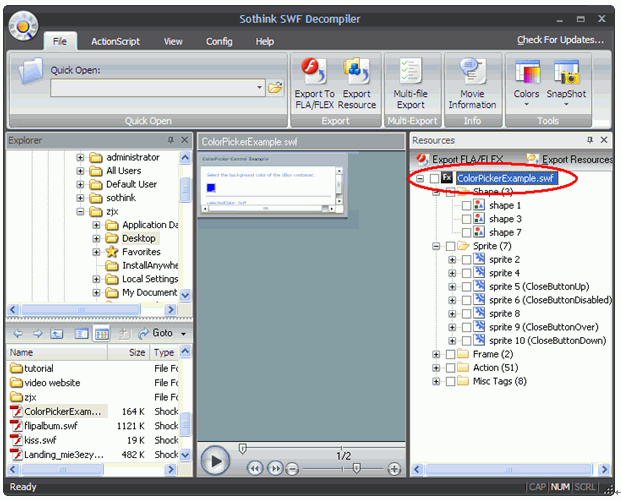 Step2: Export SWF to FLEX project
1. In the "Resources" panel, click the button "Export FLA/FLEX". Now an Export FLA/FLEX dialog is opened.
2. Click the button "Browse…" to choose a directory for saving the FLEX project file which use "~original name" as the folder name by default.
If you want to create a new subfolder with the same name as Flash file to store the exported FLEX project, check the below option to create one. Click "OK" to export FLEX project.
You can switch to the defined directory to find FLEX project like this:

Note:
Flash SWF movie which is created by FLEX can be exported in FLA or FLEX project file. The program auto-pop up the corresponding window according to SWF type. If you want to decompile FLEX SWF to FLA, click the option "Export SWF file to FLA".
Step3: View FLEX project
1. After decompiling FLEX SWF to FLEX project successfully, you can come to the defined directory to open FLEX project folder and view MXML and other files. And you can open these files in FLEX to re-edit and modify the SWF.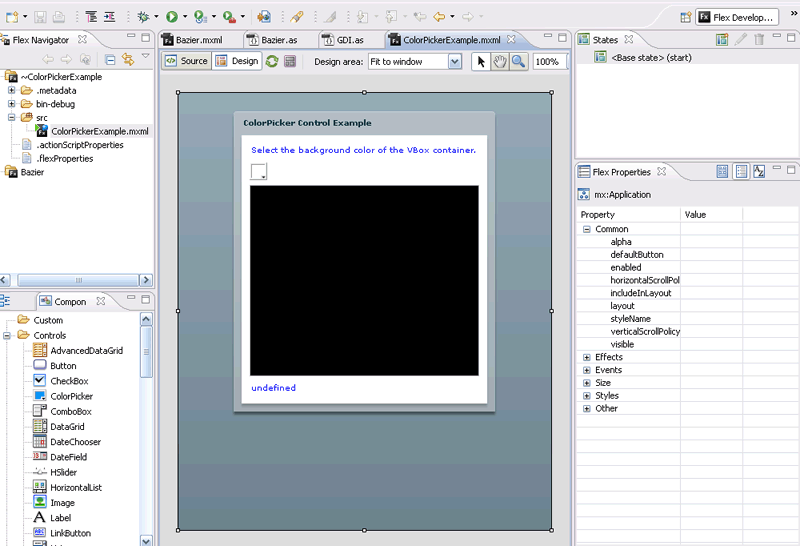 About MXML file:
MXML (Macromedia FleX Markup Language): An XML-based set of tags used with Adobe's Flex development system to describe the user interface in Flash applications.
What's more, you will find that it also exports many resources included in FLEX SWF, such as shapes, morph shapes, images, sound, videos, frame, fonts, text, buttons, sprites, ActionScript, etc.
Come on, experience decompiling SWF to FLEX project right now.