Flash Menu Builder Lets You Easily Create Web 2.0 Flash Menus
What is Web 2.0?
The term Web 2.0 is commonly associated with web applications that facilitate interactive information sharing, interoperability, user-centered design, and collaboration on the World Wide Web. A Web 2.0 site gives its users the free choice to interact or collaborate with each other in a social media dialogue as creators (prosumers) of user-generated content in a virtual community, in contrast to websites where users (consumers) are limited to the passive viewing of content that was created for them. (From Wikipedia)
How to create Web 2.0 menu with Flash Menu Builder?
Creating animated web 2.0 menus is not easy. The guide below attempts to give you an idea of how to design a nice web 2.0 Flash menu easily with a professional Flash Menu Builder.
You just need no more than 5 minutes to design an impressive glossy web 2.0 menu bar.
Suggested Flash Menu Builder: Sothink Flash Menu
Download suggested Flash Menu Builder >> (30-day free trial)
Here is the final web 2.0 menu:

Step 1: New a Flash menu project
Launch the Flash Menu Builder, and then you will see the Startup window. You can choose to create horizontal menu, vertical menu, or new from template.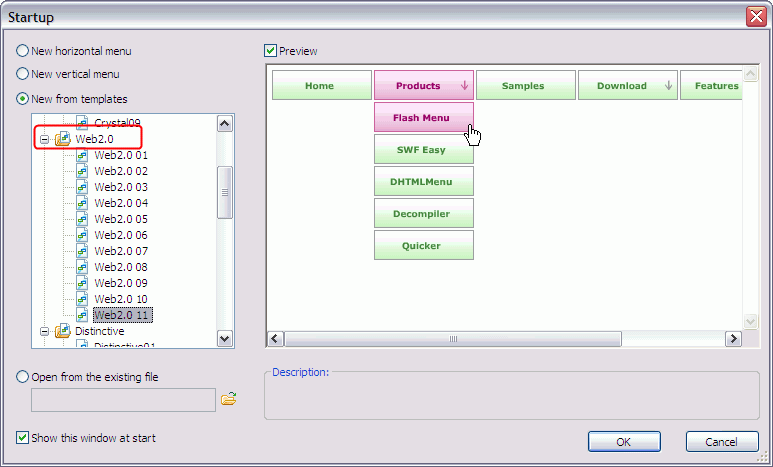 In this tutorial, we choose to new from"Web 2.0" template. You can click to preview each template on the right panel.
Select "Web2.0 11" and click OK.
Step 2: Define web menu properties
All the menu items are edited here. You can open the right-click menu to find more editing operations.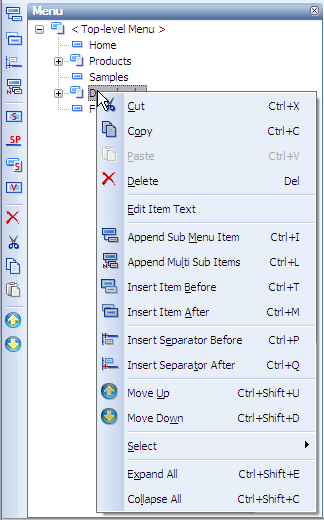 You can define the menu items as you like, such as Text, Font, Background, Icon, etc.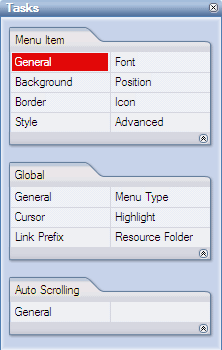 The properties of the menu items are edited in this panel.

Step 3: Publish the Flash menu to your site
When you finished designing the Flash menu, please follow the Publish wizard to add the menu to your website.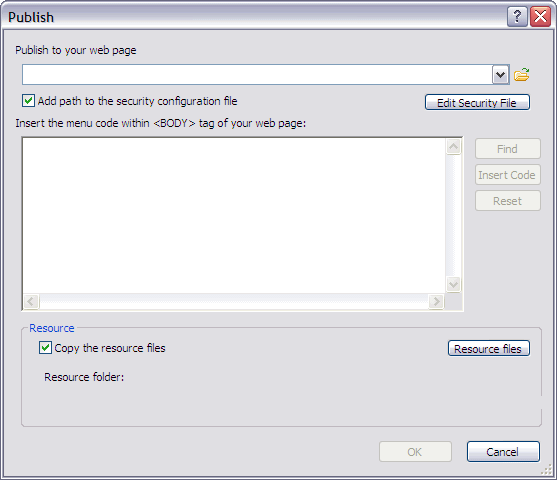 Flash Menu Builder

An ultimate Flash Menu Builder creates stylish & stunning cross-browser animated web menus in clicks. 46 built-in templates, 50 amazing special effects, 35 preset styles and image library of 4 categories, make SE friendly navigation bar without Flash and ActionScript skills. Fully customize web menu style; show Flash menus above other web elements. WYSWYG Flash Menu Builder enables you to preview created web menus instantly.

100% Clean - No need to worry about installing unwanted spyware or adware. Uninstallation is completely supported.


Life-time Free Support - Send an email to our customer service team at support@sothink.com whenever you need help.


Risk Free Guarantee - Shop safely in our secure online store. Your data and personal information are protected.