Flash Menu Maker - An Easy & Fast Way to Make Animated Web Menus
Enjoy 20 awesome web navigation menus
Clean and well-structured website navigation is Key in designing an effective user interface. Drop-down menus are great for sites that have multiple levels of content chain of command. The typical design prototype of a drop-down menu is that when a user hovers over the parent navigation item, a submenu of navigation items appears. In this collection are many different types of Flash menus used in websites all over the web for your navigation design inspiration. Here we have some collection of awesome drop-down and navigation menus.
1. Boden
Each menu item has a different font and the whole menu is very clean.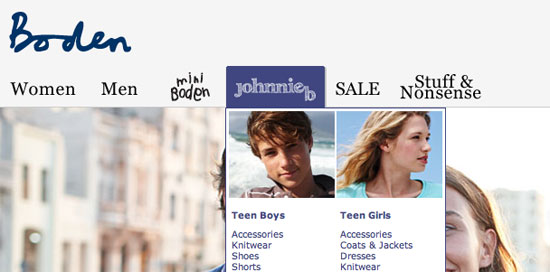 2. Navigant Consulting
The colours used on this site work together like players of a football team.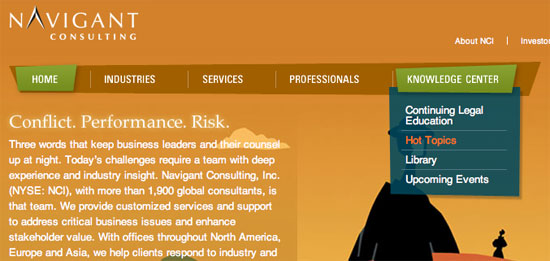 3. Fall For Tennessee
Fall for Tennessee has a horizontal menu that slides out to the right hand side. The menu items that have a drop-down submenu have a small arrow next to them to indicate that they can be expanded.

4. Officers Club
Another clothing website with a drop-down; having a dropdown submenu makes it so much easier to find products. The Officers Club drop-down has a multi-column layout.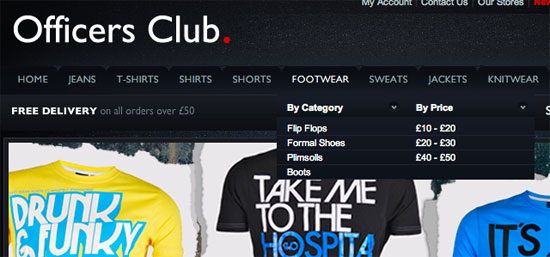 5. American Eagle
I really like the American Eagle menu style because it fills the whole site's width and also blends in with the clean paper-style look.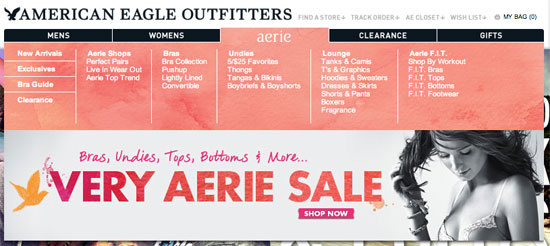 6. Mayflower Brewing
The colours used in this drop-down (and the site, in general) are gorgeous.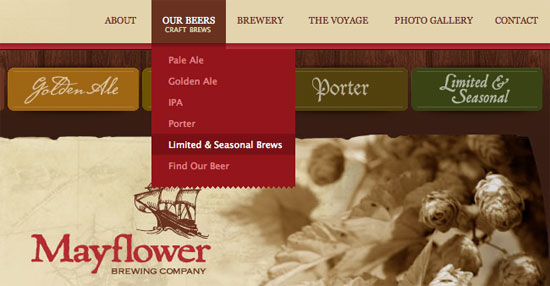 7. Carreras Con Futuro
This drop-down menu's design embodies the hand-drawn theme of the website.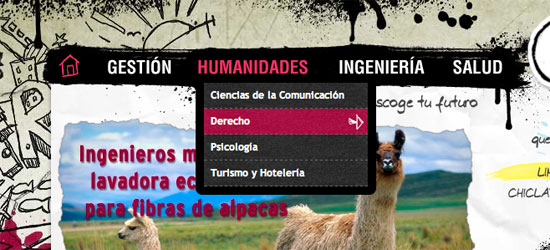 8. Callaway Golf
This is a masterfully neat web navigation design that has an orange hover effect.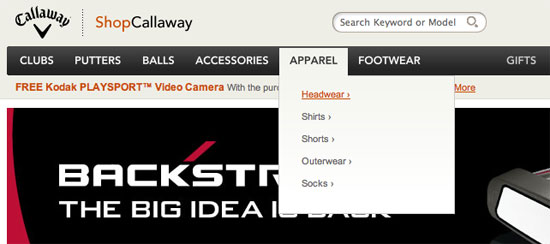 9. Puma
This dark navigation menu really stands out from the rest of the site's lighter colours.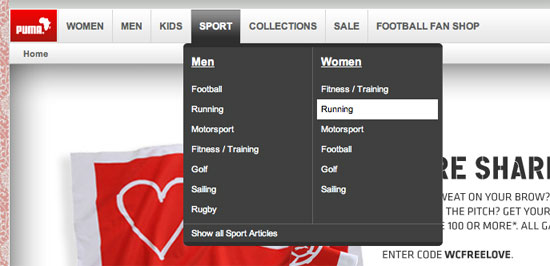 10. Galaico Folia
This drop-down submenu has a wonderful animation effect with the smaller pieces of wood folding down from the main menu item.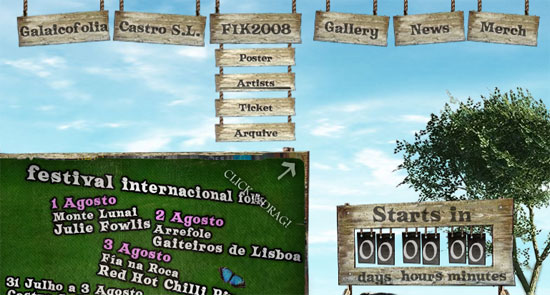 11. Sunglass Hut
This cool menu is functional in that it also serves as an illustrated visual of the various styles of sunglasses.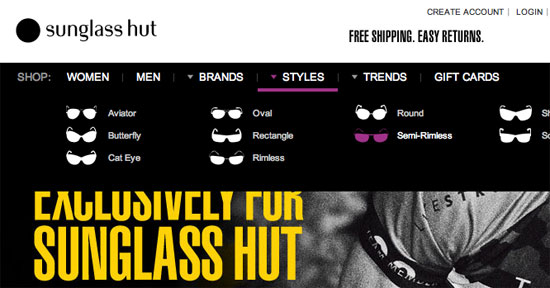 12. Tennessee Trails & Byways
This drop-down is unique because within the submenu, there's also tabbed navigation.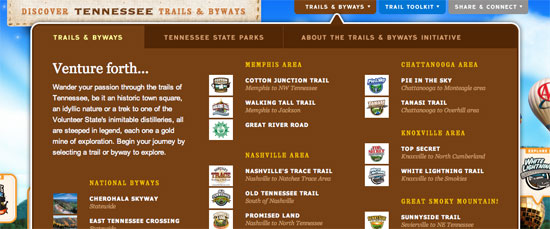 13. Gateway
The web menu in this design has nice curves and beautiful visuals that serve to display images of the computer manufacturer's products.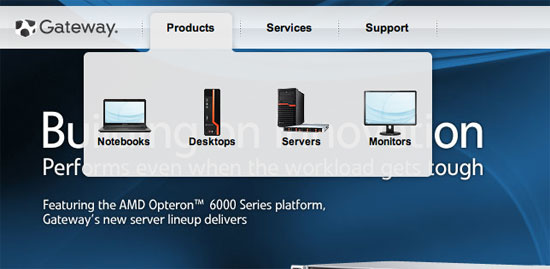 14. Noizi Kidz
This navigation is bright and shaped unconventionally.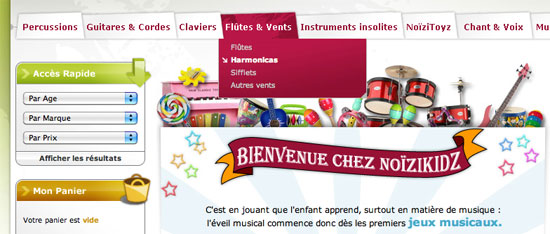 15. Ski Alpine
This menu design highlights the attention to detail that the site designer has.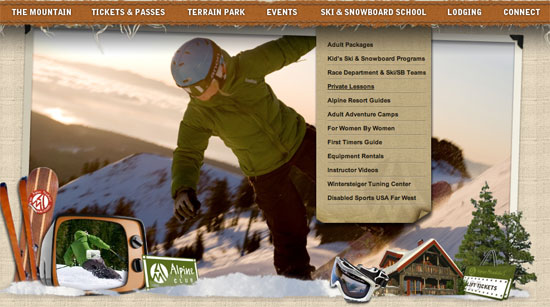 16. Mac Appstorm
Here's a clean menu that fits perfectly with the overall landscape of the site design.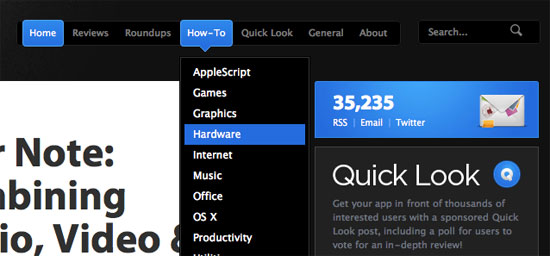 17. Duchy of Cornwall Nursery
This paper-styled website design has a nice, clean navigation menu.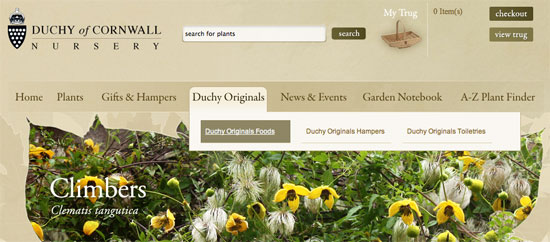 18. Famous Cookies
This drop-down navigation menu showcases the yummy cookies that the store makes available to its hungry patrons.

19. Bonfire Snowboarding
Bonfire Snowboarding has an awesome 3-column drop-down submenu on their "Products" main navigation item, placing their products within three categories.

20. Nick Ad
You have to click-and-hold your mouse pointer for the submenu to appear. Then you move onto the link you want on each drop-down and release your mouse button to visit that page; it's an interestingly unconventional interaction design.
How to create web menu with Flash Menu Maker?
Now follow this tutorial to build your own drop down menu with the Flash Menu Maker.
Suggested Flash Menu Maker: Sothink Flash Menu 1.0
Download suggested Flash Menu Maker >> (30-day free trial)
Step 1: Launch Flash Menu Maker and new a menu item.
Step 2: Set menu properties, such as text, font, background color, menu icon, etc.
Step 3: Add link for the menu items.
Step 4: Publish the navigation menu created by Flash Menu Maker to your site.
Flash Menu Maker

An ultimate Flash Menu Maker creates stylish & stunning cross-browser Flash web menus in clicks. 46 built-in templates, 50 amazing special effects, 35 preset styles and image library of 4 categories, make SE friendly navigation bar without Flash and ActionScript skills. Fully customize web menu style; show Flash menu above web elements. WYSWYG Flash menu maker enables you to preview created web menus instantly.

100% Clean - No need to worry about installing unwanted spyware or adware. Uninstallation is completely supported.


Life-time Free Support - Send an email to our customer service team at support@sothink.com whenever you need help.


Risk Free Guarantee - Shop safely in our secure online store. Your data and personal information are protected.